Sick infant fights leukemia with MMA champ Justin Gaetjhe in his corner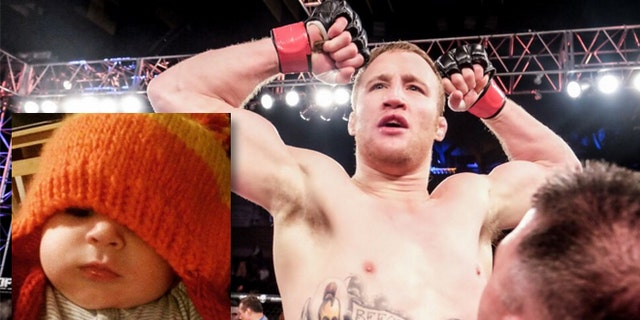 NEWYou can now listen to Fox News articles!
Undefeated World Series of Fighting lightweight champion Justin Gaethje's next fight isn't a title defense. In fact, it won't even take place inside the cage.
Gaethje's next battle is on behalf of a six-month-old boy named Jayne Wood, who was diagnosed with an acute myeloid leukemia (AML) and has been in the hospital for much of his life.
The MMA fighter has never met Jayne or his parents, but, he said, when he heard about the boy, who lives near his hometown of Safford, Arizona, he knew he had to help.
"My mom asked if I could sign a poster or a shirt for a raffle for the little boy," Gaethje told Fox News Latino in a telephone interview. "I decided to give her my fight glove."
Turns out Gaethje's mother, Carolina Gaethje, heard about Jayne's battle with AML from the boy's aunt, Cherla Ramsey, who, like Carolina, works out at Gila Valley CrossFit.
The gym's co-owner, Jarrod Davis, was holding a raffle to help raise funds for Ramsey's nephew.
"I was watching Justin's fight [against Brian Foster on March 12]," Davis told the WSoF website. "His mother actually goes to our gym … I sent her a message, 'Hey, do you think Justin could sign a shirt that we could include in the raffle to raise money?'"
Gaethje (16-0) autographed the gloves he wore at the fight, which he won in a first-round TKO, and then he went further, getting the WSoF to donate more items for the raffle signed by other fighters.
"I haven't seen the baby, but I plan do so" Gaetjhe said. "I haven't been home since I fought [Foster]."
The champion, whose mother is Mexican, is no stranger to lending a hand. He studied Human Services at the University of Colorado where he competed as a wrestler. In the past, he has donated his fight gloves to veterans' causes, and he has his eyes set on helping others once he concludes his MMA career.
"Right now I am focused on the fight game," he told FNL. "As soon as I am done, I plan to jump into it ... I want to work with at-risk youth."
The Woods opened a GoFundMe campaign to help pay for Jayne's medical expenses. The AML and the chemotherapy deplete the infant's immune system to nearly nothing.
Jayne's father, Max Wood, is grateful to Gaethje, who is something of a hometown hero in that corner of the state.
"My wife can't work because she is Jayne's main source of food," Wood told FNL. "I can't work because I am her moral support."
He went on, "Every little bit helps. We are stuck in a hospital 15'-by-15' room. If he gets a cold, it's World War III. We have to call every specialist ever. It's been a wonderful experience having people Justin included who have wanted to help us support us while our son is fighting."
Wood has opened up about his son's battle in a blog.
"Writing the blog has helped me and my wife," he said. "Humor is a good way to approach these things."
In it, he mentioned Gaethje's efforts on Jayne's behalf, writing, "I would like to extend my thanks to him, personally, for wanting to help my little fighter out. Words cannot express how much it means to my wife and me … It's nice to be reassured that, in this crazy, crazy world, there are decent people."
Wood told FNL that he's optimistic about his son's battle, while challenging.
"It's deceptive," Wood told FNL. "You forget he has cancer. He flirts with nurses, tries to crawl, smiles and laughs – but there are times he is not doing well like other babies are."
Although Jayne will receive more rounds of chemotherapy, Wood says he can't wait to take his son to watch a certain MMA fighter.
"I would love to take him to see Justin fight," Wood said. "We won't be done [with chemotherapy] till later this year. I want him to meet the kid he literally fought for."