Should Dustin Poirier have fought a short-notice replacement in Ireland?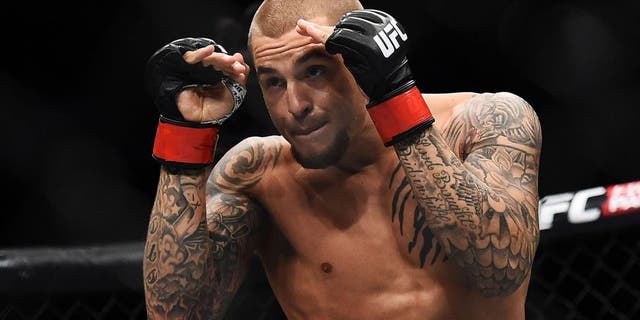 NEW ORLEANS, LA - JUNE 06: Dustin Poirier squares up against Yancy Medeiros in their lightweight bout during the UFC Fight Night event at Smoothie King Center on June 6, 2015 in New Orleans, Louisiana. (Photo by Stacy Revere/ Zuffa LLC/Zuffa LLC via Getty Images) Stacy Revere/ Zuffa LLC
Dustin Poirier was stuck in an impossible position this week after receiving the news that his opponent Joseph Duffy suffered a concussion in training last weekend and would be unable to fight in their main event bout in Dublin on Saturday.
Poirier was devastated after training for more than two months and a long trip to Ireland, only to find out that Duffy wouldn't be able to compete and the fight was scrapped. In a last ditch effort to save the fight, the UFC offered to bump up "Ultimate Fighter" winner Norman Parke to face Poirier in two day's time.
Poirier and his management team ultimately opted to turn down the fight and almost immediately he was attacked on social media for "not stepping up" to save the show while facing a different opponent in the main event.
The fact is, Poirier didn't owe it to anybody to fight anyone other than Joseph Duffy and there's not a single person who should be upset with his decision.
There's a number of reasons why Poirier was completely justified in making the choice he made, but let's just run down a few of them.
The first major argument against Poirier turning down a different opponent is that he already trained for two months, why not just fight, get paid and win anyways?
Well, logically this sport is two fighters stepping inside a cage and punching each other until one of them falls over. There's no guarantees Poirier goes into a fight against a different opponent and still walks out victorious, and let's be honest enough to say no matter how much the UFC applauds a fighter for stepping up on short notice, he won't be rewarded any more if he loses.
Second, it's been well documented that Poirier is coming up to the end of his current deal with the UFC and bargaining power is king at the negotiating table. A win over a highly touted prospect like Duffy this weekend would have given Poirier a lot of room to make demands for his next contract with guaranteed money and the potential to make six-figures a fight by the end of his deal.
A loss to Parke or any other stand in means Poirier gets a pat on the back for helping to save the show, but when it comes time to negotiate his new deal, it's unlikely the UFC is going to wave a magic wand and pretend like the fight never happened.
Third -- and maybe most importantly -- Poirier isn't to blame for any of this.
He's not the one who was sparring last Saturday, and he's not the person who got flash knocked out just seven days out from his fight. Now this isn't meant to bash Duffy or his team for what we can all hope was just a terrible accident, but he's the one who got hurt last Saturday and his injury wasn't revealed until Wednesday.
That gave the UFC and Poirier very little in the way of time to make a decision on whether or not the fight should or would go on.
Again, injuries are part of the sport but Duffy dropping out 48 hours before the weigh-in means Poirier was stuck between a rock and a hard place in regards to any decision he would make about facing a new opponent or dropping out all together.
Now, the biggest argument I've continued to hear on Twitter from fighters and fans alike is this one -- other fighters have stepped up and taken fights on less notice than two days.
I was in Sacramento when we got word as the weigh-ins were about to begin that Renan Barao fell unconscious while trying to cut the last few pounds and he was out of his championship bout against TJ Dillashaw. Instead of cancelling the fight all together, Dillashaw took a fight against Joe Soto and faced him in the Octagon 24 hours later.
Conor McGregor went from a Muay Thai striker in Jose Aldo to an NCAA All-American wrestler in Chad Mendes back in July on just two weeks notice after an injury forced a major change to UFC 189.
All of those facts are true, but here's where the point is skewed.
McGregor and Dillashaw should be celebrated for their willingness to step up and fight when logic said otherwise. But that doesn't mean if either of them opted for the alternative that suddenly they are cowards and not "real fighters." And let's not forget that in both cases it worked out for them. But would we be saying the same thing if Mendes plowed through McGregor or Soto – who lasted a four and a half rounds with the champ -- knocked out Dillashaw?
Real fighters have to look at their careers as a business.
The shelf life for a mixed martial artist is remarkably short and more fighters should look at the choices they make as business decisions rather than bending to the will of some kind of alpha male machismo to step up because "that's what fighters do."
It's not to say fighting on short notice is a bad idea -- but maybe fighting on short notice against a different opponent with two days to prepare isn't exactly a great option. No one should bear a grudge against Poirier for being smart rather than automatically thumping his chest and proclaiming that he has the biggest balls of them all.