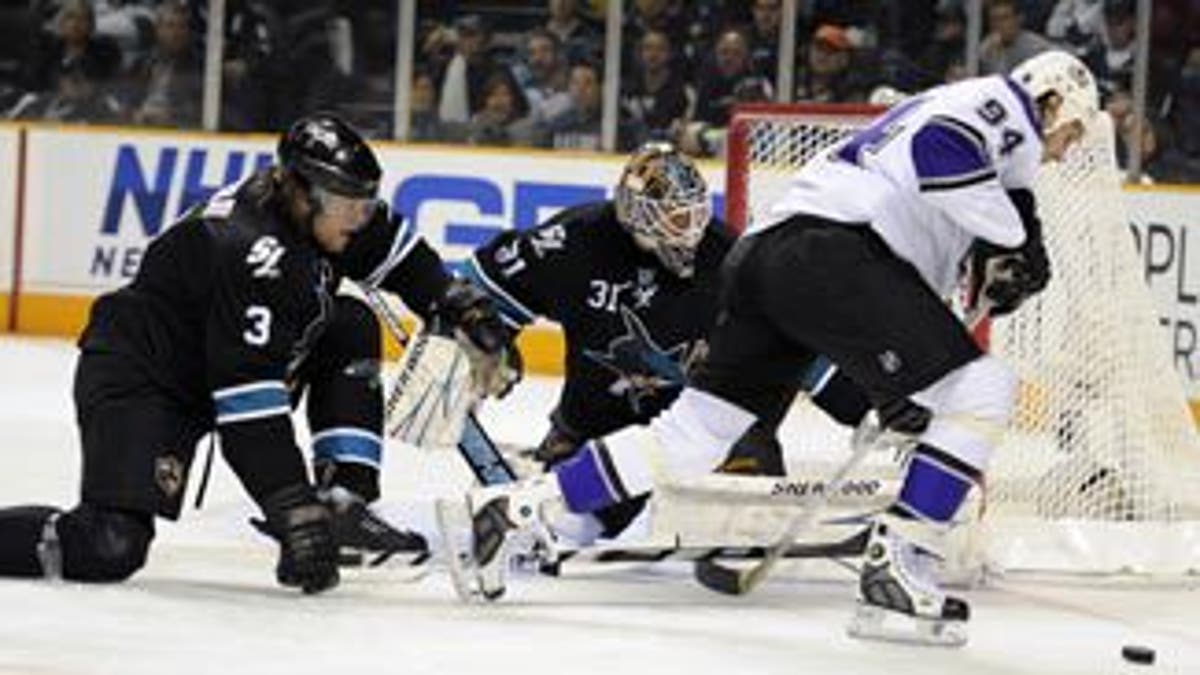 SAN JOSE, Calif. – Just minutes after his team's 4-0 meltdown Saturday night in Game 2 against Los Angeles, Sharks coach Todd McLellan said he'd be "extremely disappointed" if his players didn't have a "bit of anger and a bit of shame" over their performances.
Video review only confirmed McLellan's initial take.
"I was actually hoping that when I watched it again we could find a few more positives as far as battles and competitive situations, but we didn't find them," McLellan said Sunday. "Sometimes when you get humbled as bad as we got humbled last night, it's a lot more effective than losing in overtime. Hopefully the message resonates here in the locker room today."
The Sharks held meetings and reviewed the horror film from Saturday night, then held an optional skate, with most of the players opting for rest and soul searching over additional ice time. The entire team will get back on the ice Monday as it searches for a few quick fixes before Tuesday night when the first round series, tied 1-1, moves to Los Angeles for Game 3.
After beating Los Angeles 3-2 in overtime in the opener, the Sharks had a chance to all but bury a Kings team that was missing second-line center Jarret Stoll, who was suspended one game for his Game 1 hit on San Jose defenseman Ian White.
Instead, the Sharks turned in one of their worst playoff games in franchise history. They went 0-for-5 on the power play. They spotted the Kings a 2-0 lead on two power play goals after foolish penalties by Ben Eager and Ryane Clowe. Their top line of Joe Thornton, Patrick Marleau and Devin Setoguchi went without a point for the second straight game.
Watching the video evidence of what took place Saturday night was educational but anything but fun for the Sharks.
"It's never easy to see yourself doing something poorly, but it is what it is," Sharks defenseman Douglas Murray said. "I think we were disappointed in ourselves. We went over the video and it was pretty evident in a lot of areas we were not good enough to win the game. It's the playoffs, you can't dwell on it. You have to move on and get ready and fix the mistakes come Tuesday."
The Sharks falling flat in a first-round game is hardly shocking news. They have a history of first-round setbacks where they've lost to grittier, tougher teams. In 2008, they dropped their first-round opener at home to Calgary, 2-1. The next year, Anaheim stoned them 2-0 in the playoff opener at HP Pavilion, then beat them 3-2 in Game 2. Last year the Sharks opened the first round with a 2-1 loss at home to Colorado.
"Disappointing," Sharks center Joe Pavelski said of Saturday's loss. "It's all on us. That's the biggest thing. It's tough. You want to show up and you think about it and how you're going to play a certain way and then you don't do it. It's definitely tough. It's back to work."
The mystery, however, is how the Sharks continue to lose their competitive edge at the most inopportune times.
"If we had answers for it we would not do it," Murray said. "It's tough to say. I really don't have an answer for it."
Pavelski said there was a "snowballing effect" in their Game 2 loss as the mistakes multiplied.
"We get on the power play, we're doing good things out there and we don't establish the momentum that our power play can create for us. Then we come back and we have guys who (try to) do it on their own. Not because we're selfish or anything like that but because we're trying to make it better. It just kind of snowballs and we forget how much we need each other and how good we are together."
"It's not that individuals are careless or reckless and don't give a hoot at this time of the year," McLellan said. "Sometimes they care a little too much and they take it too far. We had one player last night who had well over a two minute shift because he wanted to show his teammates he was determined and playing real hard, and he plays that way all year. But that's not going to help us at all. So we addressed it."
After the Sharks fell behind Saturday, McLellan started experimenting with his lines, mixing and matching different players and "looking for a spark" on the ice.
"Will we continue that way or will we go back to something we're comfortable with?" McLellan asked. "I think practice tomorrow will tell us a little bit more, how they're carrying themselves and go from there."
The Sharks will adjust some of their tactics and strategies in their ongoing playoff chess match with the Kings, but McLellan made it clear that the biggest change he's looking for is an upsurge in competitive fire. He wants to see his players block more shots and win more battles along the boards and in front of the net – at both ends of the ice.
McLellan, a former Red Wings assistant coach, recounted a story from his days in Detroit when Hall of Famer Gordie Howe visited the coaching staff.
"He walked in one day and all the coaches and everybody were talking about systems and what we're doing and not doing, and he said, 'Sometimes you just have to line up against a guy that's looking you in the eye and you have to try and beat him.'
"Sometimes it's as simple as that," McLellan said. "We'll ask our players to think about that and approach it that way."