Serena Williams wins record 23rd major after beating sister Venus in Australia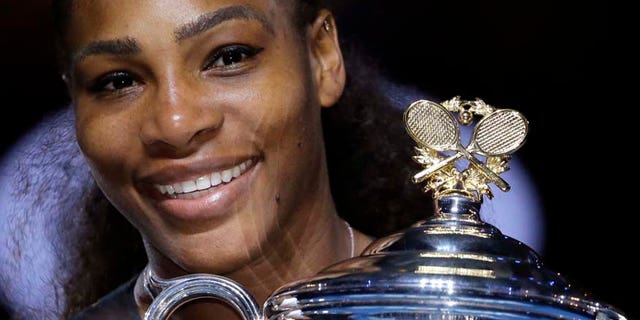 MELBOURNE, Australia – Serena Williams has won her record 23rd Grand Slam singles title, and her sister was right there on court to give her a congratulatory hug.
The all-Williams final — the first at the Australian Open since Serena won the first edition here in 2003 — went to the younger sibling 6-4, 6-4 on Saturday night.
With her record seventh Australian title, the 35-year-old Williams moved ahead of Steffi Graf for the most major titles in the Open era. Margaret Court has the all-time record and was also in the crowd for the final.
SERENA VS VENUS: A SIBLING RIVALRY WORTH $116M
Court won 24 majors, but collected 13 of those before the Open era which began in 1968 after the sport became professional.
The victory at Rod Laver Arena also ensured Serena Williams will regain the top ranking, which she lost in September after 186 straight weeks when Angelique Kerber won the U.S. Open.
It was Serena's seventh win in nine all-Williams Grand Slam finals, and the first since Wimbledon in 2009. It was 36-year-old, No. 13-seeded Venus Williams' first trip back to a major final in 7 ½ years.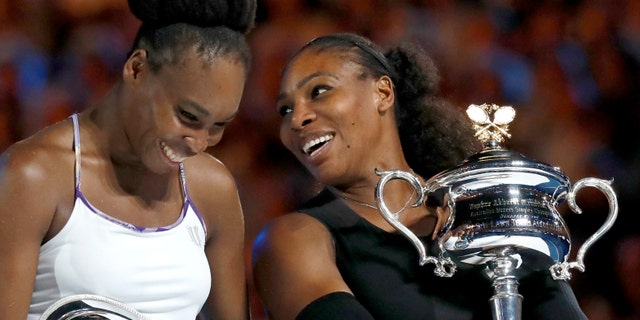 Serena sat on the court, holding both arms up for a while, before Venus walked over to her sister's side of the net for a hug.
"This was a tough one," Serena Williams said. "I really would like to take this moment to congratulate Venus, she's an amazing person — she's my inspiration.
"There's no way I would be at 23 without her — there's no way I would be at one without her. Thank-you Venus for inspiring me to be the best player I can be and inspiring me to work hard."
Williams has won 15 majors since last losing to Venus in a Grand Slam final, at Wimbledon in 2008. That was the seventh and last major title that the older of the Williams sisters won.
Venus hadn't made the second week of a major for a few years as she came to terms with an energy-sapping illness since being diagnosed with Sjogren's syndrome in 2011, and made her return to the semifinals at Wimbledon last year.
"She's made an amazing comeback ... I don't like the word comeback," Serena Williams said. "She's never left. She's been such a great champion."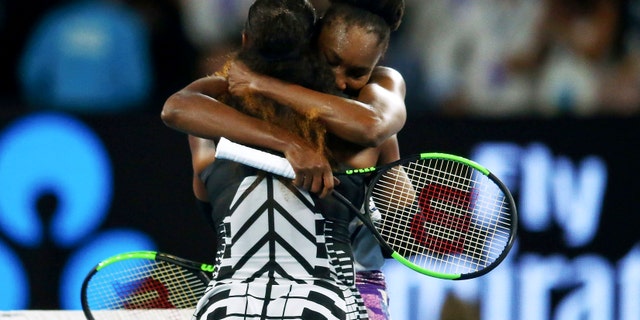 The match didn't live up to its classic billing, with nerves and tension causing uncharacteristic mistakes and unforced errors and four consecutive service breaks before Venus finally held for a 3-2 lead. That included a game when Serena had game point but served back-to-back double-faults and three in all to give up the break.
There were six service breaks in all. Both players were relatively subdued, except for Serena's racket smashing spike on the court in the third game that earned her a code violation.
After the fourth game, however, Serena Williams didn't face another break point in the 1-hour, 22-minute match.
"Serena Williams, that's my little sister, guys. Congratulations Serena on No. 23," Venus said. "I have been right there with you. Some of them I have lost right there against you. It's been an awesome thing, your win has always been my win, you know that. All the times I couldn't be there, wouldn't be there, didn't get there, you were there."
Venus stayed in the match with 21 winners, and won the longest rally of the match, but couldn't seem to keep up with her sister as the match progressed.
In terms of total years, it was the oldest Grand Slam women's final in the Open era with the Williams sisters combining for 71 years, 11 months.
Serena hadn't wanted to talk about the No. 23 before or during the tournament. She finally can now. She also had a pair of ready-made shoes — a red and black pair with the No. 23 stamped on the heel that were waiting for her to wear after the trophy presentation.