Senators' Clarke MacArthur scores first goal in nearly two years, sends arena into frenzy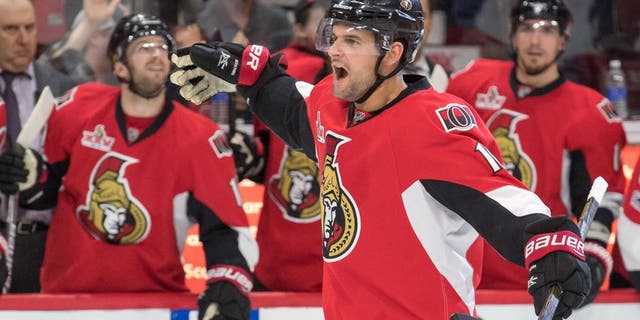 NEWYou can now listen to Fox News articles!
It's been a long road for Clarke MacArthur to get back on the ice as a productive forward for the Ottawa Senators. The 32-year-old Sens winger missed most of the last two seasons while dealing with the aftermath of multiple concussions.
But on Saturday afternoon, MacArthur for the first time in nearly two years finally got back into the goal column.
After returningto the Ottawa lineup earlier this month as the Senatorspushed for a playoff spot, MacArthurfound the back of the net for the first time during Game 2 of their opening-round series against the Bruins on Saturday. The goal came on a second period power play for Ottawa and featured MacArthur delivering a snipe on a one-timer.
It was a pretty play butmore importantly, a great moment a long time in the making for MacArthur, who received a very loud ovation from the Senators faithful in attendance at the Canadian Tire Centre.