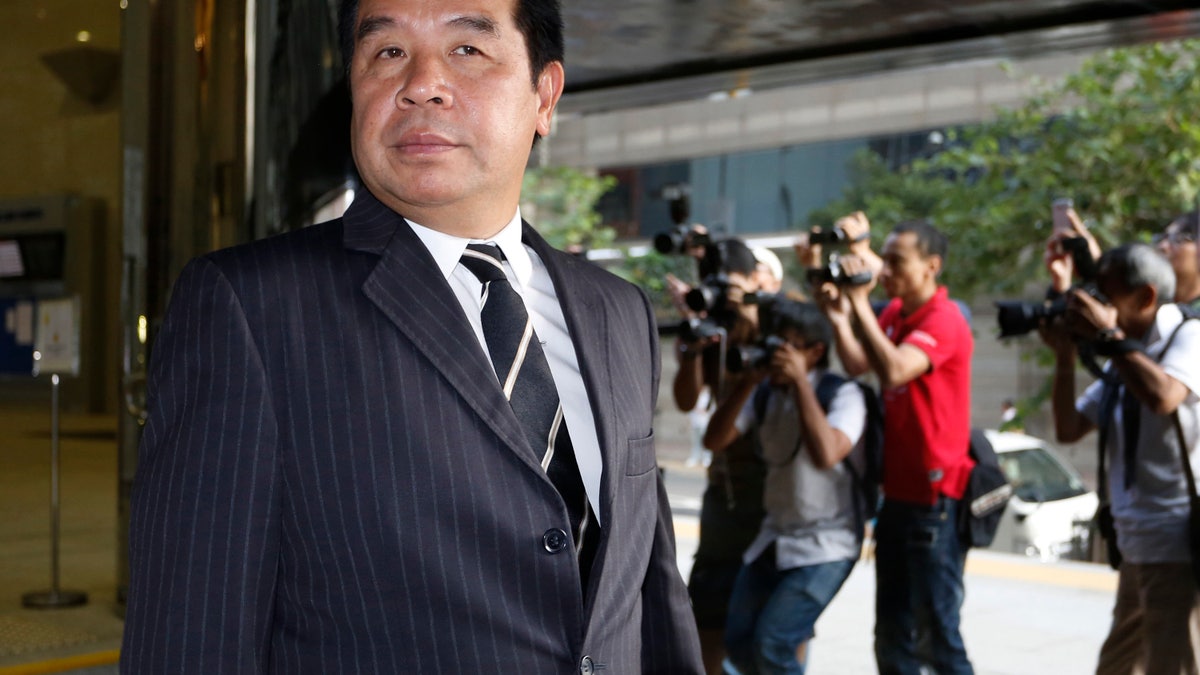 HONG KONG – Carson Yeung says he's a celebrity hairdresser, property developer, casino high-roller and millionaire stock investor. Hong Kong prosecutors say the owner of Birmingham City football club is a money launderer who grossly inflated his income.
The competing portrayals emerged from Yeung's testimony over the past two weeks in his money laundering trial in the Asian financial center. Yeung was a little known Hong Kong businessman until he bought the English team for 81.5 million pounds (then $130 million) in 2009.
Fans have fallen out of love with the club's owner, blaming Yeung for failing to help the team, which dropped out of the Premier League in 2011, since his legal troubles began that same year. They've urged him to accept offers to sell the team, but he has refused.
The Yeung case comes amid growing concern about corruption in Hong Kong, where a number of high profile graft scandals have chipped away at the city's reputation for clean government and traditionally high esteem for tycoons.
Prosecutors say HK$721 million ($93 million) flowed through bank accounts registered to Yeung, 53, and his father from January 2001 to December 2007 even though both reported meager incomes until then. Money from the accounts was used to buy an initial stake in Birmingham City, they said.
Attempting to poke holes in Yeung's story, prosecutors highlighted links to an alleged organized crime leader, suspicious stock transactions, and nearly $8 million in winnings from a Macau casino within two months.
Yeung's lawyers sought to portray him as a legitimately successful businessman able to afford a $780,000 Maybach sedan, an 88-foot yacht and 5 million pound ($8 million) London house.
When asked by his lawyer whether "dirty money" was used to buy Birmingham City, Yeung said it was "impossible."
Prosecutor John Reading questioned Yeung about why some $7.7 million was paid by a Macau casino into his accounts from Dec. 2004 to Jan. 2005, but he didn't receive any other money this way in the following few years.
"This money was my winnings at the casinos. I gambled as if it was a business," said Yeung, who told the court he traveled frequently to nearby Macau to play baccarat with a $130,000 stake at private VIP rooms.
Yeung was quizzed about his links to Cheung Chi-tai, an alleged triad leader as Chinese criminal gangs are known. Cheung was a shareholder of a Macau gambling company that Yeung invested in.
"Did you know that Cheung Chi-tai was believed by police to be a member of a triad society?" Reading asked. Yeung said he didn't.
Cheung was named by a witness in a 2011 Hong Kong court case and in a 1992 U.S. Senate subcommittee report as a triad leader, though he has not been convicted of any crime.
Reading focused on a $2.3 million payment, which Yeung said was money owed after he cashed out an investment in Cheung's company to buy a house in London. He said he didn't ask where the money came from because he had known Cheung "over so many years."
Yeung told the court he left school at 15, apprenticed as a hairdresser and trained in London and Paris before opening the first of five salons in 1989 aimed at upmarket Hong Kong customers. He said his services were sought by Hong Kong stars on movie sets and responded to skeptical questioning about the earnings of the first salon by saying he charged the highest prices in Hong Kong.
Yeung dabbled in real estate, earning $1.9 million selling villas at a development. Reading said the figure was "grossly exaggerated."
He focused on stock trading in the late 1990s. By 2006-07, his stock portfolio was worth about $39 million.
Prosecutors examined a 2001 trade in which he sold about 30 million shares of a small company to an acquaintance at less than half the market price. Yeung said the stock wasn't liquid enough to sell on the open market in one block.
"I don't understand why you would give HK$50 million ($6.4 million) to a friend of a friend," Reading said to Yeung, who frequently avoided directly answering questions under cross-examination.
A verdict is expected next year. It could lift the cloud hanging over the club — or deepen it.