Seahawks TE Willson returns to practice after two-game absence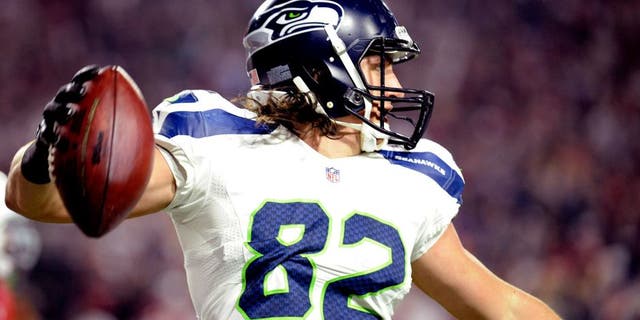 NEWYou can now listen to Fox News articles!
While the progress of running back Marshawn Lynch continues to be the No. 1 topic for the Seattle Seahawks, another key player returned to practice Wednesday.
Starting tight end Luke Willson, who missed the past two games due to a concussion, practiced fully and is on track to return for Sunday's game at the top-seeded Carolina Panthers in the NFC Divisional Round.
Willson, who also practiced last week before suffering a setback, pronounced himself "ready to roll." He could be a vital addition for Seattle, which got eight receptions for 140 yards from tight end Jimmy Graham in a 27-23 loss to Carolina in Week 6.
"I don't know if we're going into the game specifically thinking this worked last time," Wilson told reporters Wednesday. "The thought is we've got to come out and battle and fine a way to get it done."
Wilson has only five receptions since Graham was lost for the season, but he had a major impact in the Seahawks' 31-17 victory over the Panthers in the postseason a year ago. He had four catches for 68 yards and a 25-yard touchdown reception in the fourth quarter to help Seattle pull away.
Backups Cooper Helfet and Chase Coffman combined for eight catches and a touchdown in the regular-season finale, but neither had a reception in last weekend's 10-9 victory over the Minnesota Vikings.