Scherzer frustrated at mistakes in another rocky start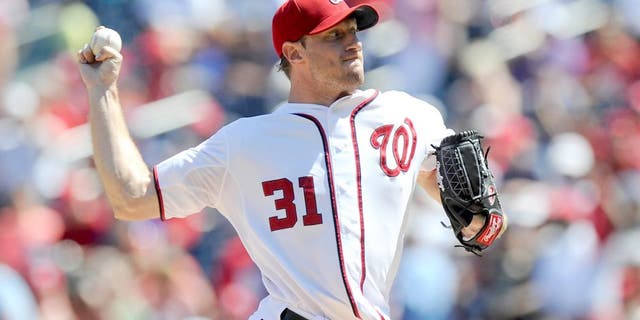 The past couple months have been a rough go for Max Scherzer, which make his most recent shortcomings particularly frustrating for the Nationals ace.
In a season in which Scherzer threw a no-hitter and assembled one of the greatest stretches of outings in recent history in June, the 31-year-old righty has unraveled after the All-Star break, notably faltering in August and now September.
After going 0-3 with a 6.43 ERA in August, Scherzer remains winless since July after picking up a no-decision for his outing on Monday, in which he gave up five earned runs on seven hits over six innings in the Nationals' 8-5 loss to the NL East-leading New York Mets.
"I'm just making mistakes in the zone," Scherzer said. "I'm leaving the ball thigh-high instead of getting the ball down by the knees. That's something that's been symptomatic here it seems like in the second half. That's something I got to get better at. I got to get better at getting the ball down in the zone, getting it back down to the knee level. That's what's going to keep me up late tonight is figuring out how I should do that."
Although the Mets scored three runs on Scherzer in the first four innings, the Nationals rallied back in the bottom of the fourth with a five-run inning, which included a grand slam from Wilson Ramos.
"I am just disappointed I wasn't able to hold that lead," Scherzer said. "That's something that I take pride in is when you get a lead like that, when your offense wakes up and responds. Willy hits a huge grand slam and we go up 5-3. I take pride just putting up those zeroes to turn over the bullpen. It's extremely frustrating for me that I wasn't able to do that and get that lead to the bullpen and let them tie it."
As the season winds down, the Nationals are vying for a postseason berth with the Mets, who padded their divisional led to five games with Monday's win.
Scherzer is well aware of how important Monday's game was to the Nationals' playoff hopes.
"I think it's frustrating because everybody thinks they could've done something better today," the righty said. "It starts with me. I know I could pitch better. I give them credit knowing what they were able to accomplish today. I'm not taking anything away from them. I just know I can get balls down in the zone, I know I can drive balls and be very effective lower in the zone. That's where makes me successful. I'm not doing that."
(h/t MASN)