Saturday, May 6: Toronto Blue Jays at Tampa Bay Rays game preview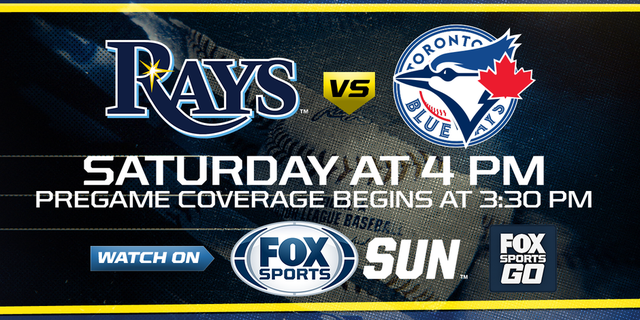 TV: FOX Sports Sun
Time: Pregame coverage begins at 3:30 p.m.
CAN'T GET TO A TV? WATCH IT LIVE ON FOX SPORTS GO
ST. PETERSBURG, Fla. -- The Tampa Bay Rays will try to look to right-hander Jake Odorizzi as they try to even up their weekend series against the Toronto Blue Jays on Saturday afternoon.
Odorizzi (1-1, 3.50 ERA) is expected to have a much longer leash Saturday, according to Rays manager Kevin Cash, after he threw only 78 pitches over five innings in his last start, a win against the Miami Marlins.
That was Odorizzi's first start after missing two weeks with a hamstring issues that forced him out of a game against the Boston Red Sox on April 16.
"[Last time] was just trying to be smart about keeping him in the rotation as long as possible," Cash said. "We're excited to see him get the second [start] and get in that rhythm of a five-day routine."
Odorizzi has historically performed well against the Blue Jays. In 12 career starts he's 4-2 with a 3.24 ERA. The Blue Jays, however, have been able to get the long ball going against him with 10 home runs -- the third most Odorizzi has allowed against any team he's faced.
Toronto will respond with right-hander Marco Estrada (1-1, 2.43), who is performing as well as anyone on the Blue Jays' staff right now.
Estrada has gone six or more innings in his last four starts and has given up just three earned runs during that span. He has struck out 29 batters and yielded six walks in those starts.
Blue Jays manager John Gibbons said Estrada has figured out how to be an effective pitcher without have the luxury of a 95-plus mph fastball
"I don't think he quite gets the recognition for what he has done the last couple of years," Gibbons said to MLB.com. "The players know how good he is. He has a totally different style than pitchers have nowadays. Most guys are power guys. He overpowers you with some finesse. That's what he does."
Estrada has struggled against the Rays, going 1-5 over 11 career starts, but he has 3.31 ERA against the team and hasn't always had the necessary run support to get wins.
If the Blue Jays want to get some runs for Estrada they will look to get things started with Kevin Pillar, who will be trying to extend his hitting streak to five games. He went 3-for-5 with a double and an RBI on Friday.
The Rays might be without Gold Glove center fielder Kevin Kiermaier after he was removed from the game Friday when he was hit on the right hand by a pitch from Francisco Liriano. Although there did not appear to be anything behind the pitch -- Kiermaier was 0-for-2 in the game at that point -- there was plenty of frustration from his comments.
"I hate coming out of games," Kiermaier said. "I've broken my hand before with guys hitting me and certain things like that. The catcher sets up outside and comes up and in and he misses and hits me in my hand and makes me exit the game.
"Something I'm not going to forget. That's one of those things where, like I said, I'm not happy about it. He got me in terrible spot, but we will ice it and do whatever we can tomorrow and see how it feels."