Sam Hornish Jr., David Ragan working to line up rides for 2016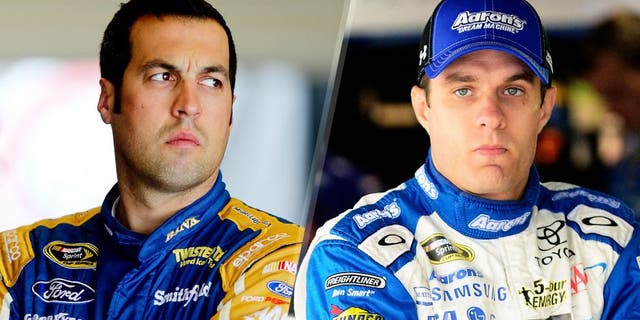 NEWYou can now listen to Fox News articles!
With just seven races left in the 2015 Sprint Cup season, Sam Hornish Jr. and David Ragan find themselves in similar predicaments: Looking to secure rides for 2016.
Hornish, who took over Richard Petty Motorsports' No. 9 Ford this season after spending the past three years in the XFINITY Series, needs additional sponsorship to be back in the car next year.
Ragan, who has been in Michael Waltrip's No. 55 Toyota since mid-May, is without a ride because MWR is closing its doors at season's end.
With few, if any, full-time Sprint Cup Series rides available for 2016, both Hornish and Ragan have limited options and, at least theoretically, limited time to get deals in place.
Both, however, remain optimistic that they will be racing -- although maybe not in NASCAR's top series -- next season.
"Some teams have reached out to me. I've reached out to a few teams. Ultimately I don't have anything in the works or coming together right now," Ragan told FOXSports.com on Saturday at Charlotte Motor Speedway. "I'm trying to be as patient as I can just to see what happens. A lot of times things change that are unexpected with some of these top teams in the last months of the season. We've had guys get fired after Homestead before. Drivers have issues, different things happen, so I'm patiently waiting for the right opportunity."
Ragan, who spent several races in Joe Gibbs Racing's No. 18 Toyota earlier this year subbing for injured Kyle Busch, said he would entertain running an XFINITY Series car for JGR next year if such an opportunity arose. Ragan, likewise, indicated he would be open to returning to Roush Fenway Racing -- the organization where he began his Sprint Cup career in 2007 and competed through 2011.

The two-time Sprint Cup Series race winner wouldn't even be opposed to joining a Camping World Truck Series team, provided that team is a frontrunner. No matter where he ultimately ends up in 2016, Ragan would like to have a deal in place by the 2015 season finale at Homestead-Miami Speedway.

"I'm not going to be impatient and just jump on the first thing that comes around, but I want to be in the most competitive ride that I can be in the Sprint Cup Series, and if I can't find that, where I'm happy and it's a good fit, I'll look at some options in the XFINITY Series and even in the Truck Series," he said.
What Ragan does not want to do is compete for a Sprint Cup Series team that starts and parks.
"I'm still young," the second-generation driver said. "I'll be 30 in December, and I want to race something to have fun. I don't want to be out here just making laps earning a paycheck. That's not what it's all about. ... I want to be in the Cup Series, but I want to be in something that I can race hard, and have a chance to win a race."
Hornish, meanwhile, admitted that the sponsorship uncertainty makes his future at Richard Petty Motorsports extremely tenuous.
"From my understanding of all of it, they're still looking for money to make the 9 car happen," said Hornish, who has just three top 10s and no top fives in 29 starts for RPM. "We feel like at times if we ran a little bit better that might be a little bit easier, but all that being said, it's got to be the right fit for everybody, too. There's a ton of rumors going on about what's going to happen. There's probably a lot more rumors than there are truths."
A former Indianapolis 500 winner and three-time IndyCar champion, Hornish competed full time in Sprint Cup for Team Penske from 2008-2010. He then drove one partial and two full XFINITY seasons before making a return to Sprint Cup this season.
A father of three children under the age of eight, Hornish admittedly enjoyed having a few more breaks in the schedule the past three years despite wanting to get back to Cup.
"I'm in a pretty good position with everything outside (of racing)," Hornish said. "I've got a wife and three kids. I'm in a great spot where I can choose to be a little bit picky about what I do, what I want to do, what I don't want to do, so that's obviously great. This year has been fun, I've done a lot of great things with the family, and I've missed some things, too. So all in all, I feel l'll be OK regardless."
But make no mistake about it: Hornish wants to remain in NASCAR, preferably with a Sprint Cup Series team.
"I want to be here and I want to be running these cars, whether it's on the Cup side or the XFINITY side," he said. "I want to be in something that's capable of running up front and should be able to do well, and that's all that really matters to me. Thank God that I've had enough opportunities for good things to happen that I don't have to go and get into something I don't feel comfortable with."
Unlike Ragan, Hornish isn't concerned about having his plans lined up by the end of this season.
"Ninety-nine percent of the things I've done in my lifetime were kind of last minute, so there's been a few times where it's been taken care of well in advance, but all in all whatever I happen to be racing next year I'd like to have a suit that matches the car, you know what I mean?" Hornish said. "I don't want it to be a last-minute thing, but I feel like there's obviously not a ton of great opportunities at this point in time for anybody that would be at this stage of the game."