Sam Bass Collection to be sold at bankruptcy auction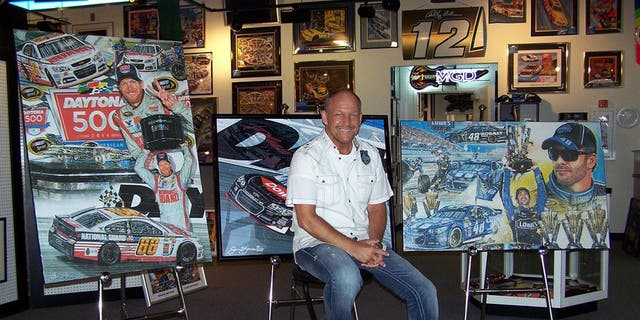 NEWYou can now listen to Fox News articles!
More than 250 pieces of artwork, 85 guitars and assorted pieces of autographed NASCAR sheet-metal from artist Sam Bass will be sold at auction as part of a court-ordered bankruptcy sale.
The auction will take place on May 3 at 10 a.m. ET at the Cabarrus Arena inConcord, North Carolina. Simulcast-internet bidding will also be available with online pre-bidding beginningApril 25.
Bass, the first officially licensed artist of NASCAR, has been battling serious health problems related to diabetes.
Iron Horse Auction Co. Inc. will conduct the auction.
Offered in this auction are more than 250 pieces of original Sam Bass Artwork with Certificates of Authenticity. Also available are 85 Custom Guitars -- many designed by Mr. Bass -- including one used as a prop for the film "Talladega Nights". Custom guitars autographed by The Rolling Stones,B.B. King, and ZZ Top, guitar amplifiers of many vintages will be offered, the company said in a press release. "Stock car hoods and vehicle pieces autographed byDale Earnhardt Sr.,Dale Earnhardt Jr.,Jeff GordonandJimmie Johnsonare also available for bidding.
For more details on the sale, check out ironhorseauction.com.