Saints coach Sean Payton suggests a way to fix poor NFL officiating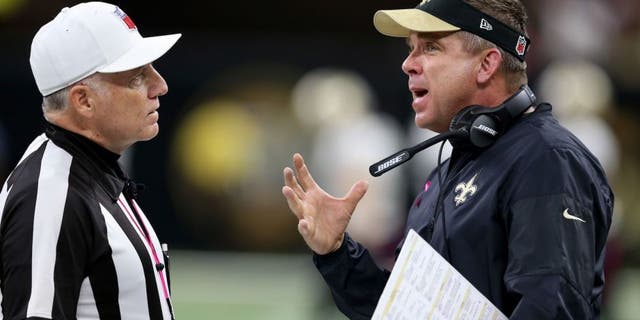 There has been plenty of displeasure with the job NFL officials are doing this season, particularly on the part of the players. Seahawks cornerback Richard Sherman ripped the crew from Sunday's game against the Saints for a lack of calls on New Orleans. Cam Newton said he doesn't feel safe on the field and that the refs are taking the fun out of football.
Now, Saints coach Sean Payton is offering a solution.
On PFT Live Tuesday, Payton called out the league for having part-time officials. He thinks it's "madness," and he's probably right. The NFL is the only major pro sports league without full-time officials, and Payton wants that to change.
"The system currently hasn't improved. We say it has, but it hasn't. We're the only league with officials who have primary other jobs, which is really madness," Payton said. "We can pay these guys. They should be full-time NFL officials, and they should be working throughout the week, communicating. Every other sports league employs full-time officials. And ours, these guys all have other significant jobs. I just think it's very difficult to do."
Officiating the NFL is incredibly difficult given the fact that there's holding on nearly every play, and the athletes they're calling penalties on are exceptionally athletic. Not to mention, making (or missing) a defensive pass interference can change a game dramatically -- like the Seahawks-Falcons no-call on Sherman in Week 5.
Payton isn't the only one who has called for the NFL to pay its officials like full-time employees, he's just the latest.
"The officials work their tails off, but there are some things that need to be fixed," Payton said.