Royals must account for Yankees' running game as well as power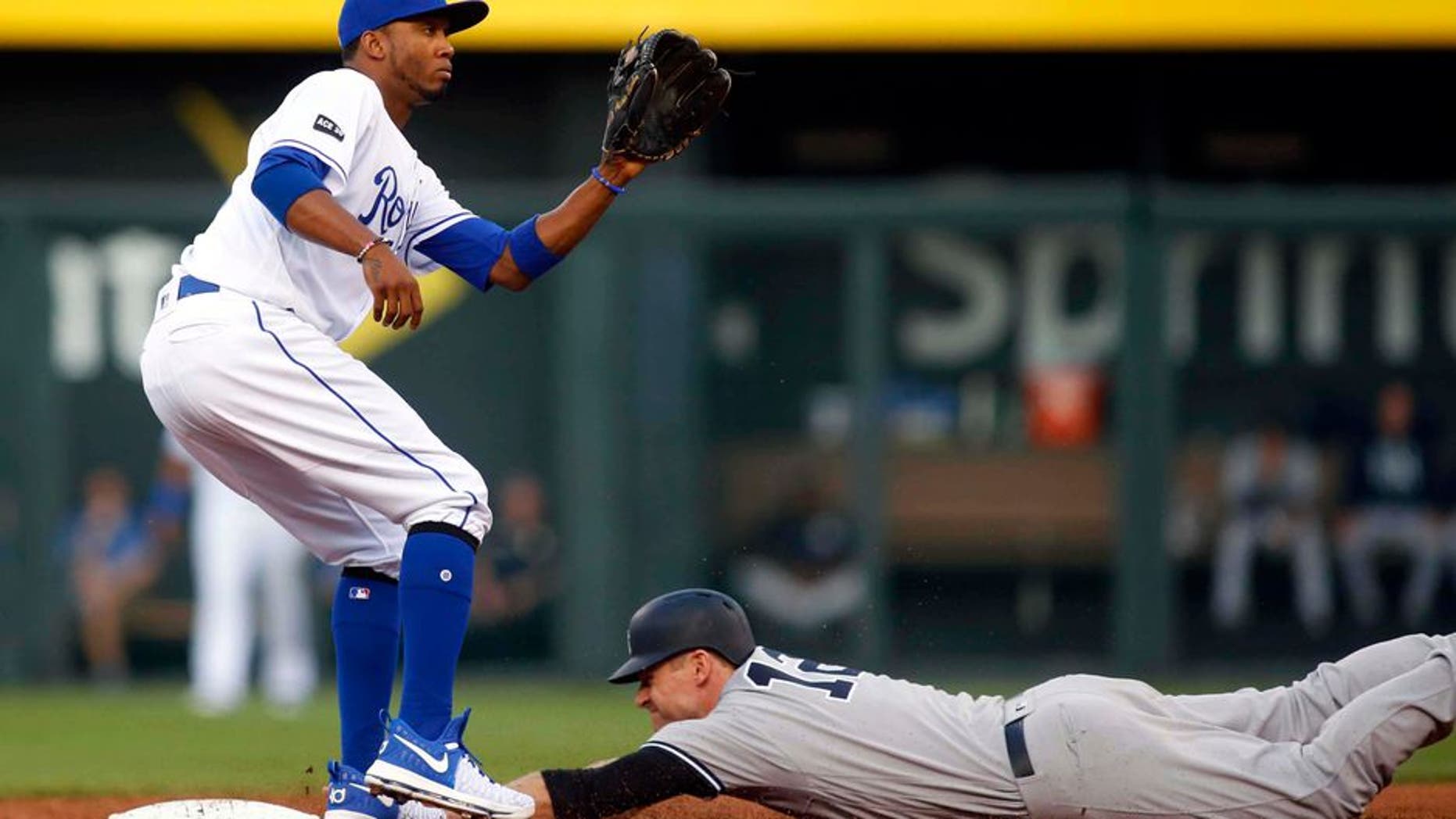 KANSAS CITY, Mo. -- The perception is the Runnin' Royals versus the Ponderous Yankees. That would be fake news.
As the Yankees and Royals prepare to close out a three-game series Thursday at Kauffman Stadium, Kansas City has stolen fewer bases than New York.
While the Yankees lead the American League with 58 home runs, they have swiped their last 10 bases without being caught. They rank second in the AL with 29 stolen bases in 34 attempts. Their 85.3 percent stolen-base ratio tops the majors.
The Royals have 24 stolen bases. Lorenzo Cain leads the AL with 11 steals and has not been caught. No other Royal has more than three stolen bases.
The Yankees have four players -- Jacoby Ellsbury, Brett Gardner, Didi Gregorius and Aaron Hicks -- with five or more stolen bases.
New York manager Joe Girardi is doling out more green lights.
"I think there are more candidates," Girardi said.
Even slugger Aaron Judge, who is listed at 6-foot-7, 282 pounds, swiped a base for the third time this year in New York's 7-1 victory Tuesday night.
"The one thing you worry about is when guys slide headfirst," Girardi said. "He's slid feet first the last few times. You're going to pick your spots with him. I'm not going to turn him loose as much as a Gardner or an Ellsbury.
"And you're going to do it against certain guys you feel you can take advantage of. (Tuesday) we had a guy (Royals right-hander Jason Hammel) that can be slow to the plate, so we tried to take advantage of it."
Royals left-hander Danny Duffy (2-3, 3.38 ERA) and Yankees rookie left-hander Jordan Montgomery (2-2, 4.19 ERA) are the starters Thursday.
Duffy will try to stop a Yankees lineup that has scored at least seven runs in 17 games this season, tops in the majors, after New York's11-7 victory Wednesday. The Yankees have scored18 runs in the first two games of the series at Kansas City.
"They are obviously pretty potent," Duffy said. "You want to make sure you locate, but in the same breath, you've still got to pitch to your strength and not think about who you are facing. We all belong here. We're here for a reason, just like they are. You just try to execute and do your job. I try to simplify everything and make it easy on myself."
Montgomery will be facing the Royals for the first time in his career. In his previous start Friday against Houston, he took the loss, allowing a career-high four earned runs on eight hits, including a home run, with seven strikeouts and one walk in six innings. The Astros won 5-1.
He has the lowest home run ratio (0.79 for nine innings) among Yankees starting pitchers, yielding three homers in 34 1/3 innings. The Yankees are 3-3 in his starts.
He has pitched well in the clutch, limiting opposing hitters to a .156 batting average with runners in scoring position, which is the lowest among American League rookies with a minimum of 25 innings.
Montgomery was a 2014 fourth-round pick out of South Carolina. He divided last season between Double-A Trenton and Triple-A Scranton/Wilkes-Barre, going 14-5 with a 2.13 ERA in 25 starts.
Duffy is 1-2 with a 7.29 ERA in five career starts and two relief appearances against the Yankees. His lone victory vs. New York was May 3, 2012, at Kauffman Stadium.
None of the current Yankees has more than six at-bats against Duffy. Matt Holliday is 3-for-6 with a home run and two RBIs off Duffy. Chris Carter is 1-for-6 with the hit being a home run. He has also drawn three walks from Duffy and struck out twice. Gardner is 1-for-6, while Ellsbury is 1-for-5.
Duffy is 0-2 with a no-decision in his past three starts.
The lefty has been experiencing difficulties with the bottom third of the order. Opposing 7-8-9 hitters are batting .358 (19-for-53) with a .623 slugging percentage off Duffy. Batters 1 through 6 are hitting .242 (32-for-132) off him.