Royals' Hammel seeks first win over anybody besides Indians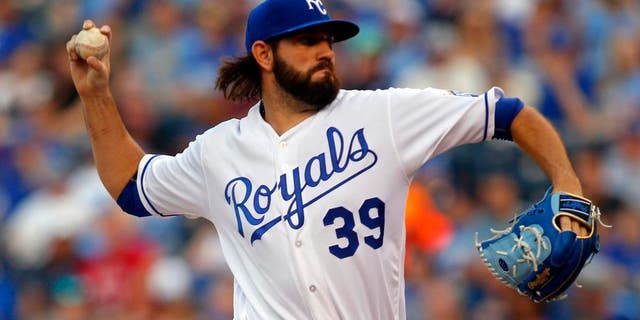 NEWYou can now listen to Fox News articles!
KANSAS CITY, Mo. -- Jason Hammel owns two wins over the defending American League champion Cleveland Indians this season.
However, those are his only victories. He is 0-6 against everyone else heading into a Thursday start against the Houston Astros, who have the best record in the majors at 42-18.
The Astros will counter with right-hander Lance McCullers as they attempt to split the four-game series. Houston won the opener before Kansas City took the past two games, including a 7-5 win Wednesday.
Hammel worked six solid innings to beat the Indians on Saturday, so he will try to carry some momentum into his battle with the Astros.
"The mistakes you make when you're going through a lineup as hot as they are and scoring runs, obviously, it's a little more in magnitude, I guess," said Hammel, who has a 5.93 ERA. "When you make mistakes, they make it hurt when a team is hot.
"But that doesn't mean you can't go about your business and be the pitcher you are. You don't have to change what you do just because a team looks good. I think we have the weapons on the mound here to cool these guys off."
Against the Indians, he allowed three runs in the second inning but settled in to retire 15 of the last 17 batters he faced. He said it might have been his best start of the year.
"I felt really good about it, yeah," he said. "And more so because I didn't walk anybody. I don't know why, for whatever reason, I'm walking a lot of guys this year. That's not my thing. I'm usually pretty much a strike-thrower. I know if you don't throw strikes, you're going to get yourself in trouble."
Hammel, a 15-game winner last season with the Chicago Cubs, believes he and the Royals can turn around this season.
"One hundred percent," Hammel said. "We take a lot of pride in our work, all of us in this clubhouse. It hasn't been the start we wanted, collectively as a team. When you go back and look at it, we have not hit on all cylinders as a team when it came to hitting and pitching. We just weren't going it at the same time.
"There's been flashes here and there, but consistency is what keeps us at this level. We're always trying to achieve that, but it's easier said than done."
Hammel is 2-2 with a 3.09 ERA in eight career outings, seven of them starts, against the Astros. He has not faced them, however, since 2014 while with the Oakland Athletics.
While opponents have a .295 batting average off him, Hammel is holding foes to a .220 average (11-for-50) with runners in scoring position. He has limited opponents to a .143 average with RISP in his past three starts.
McCullers (6-1, 2.71 ERA) is 1-0 with a 2.57 ERA in two career starts against Kansas City. Earlier this year, he got a no-decision against the Royals, allowing three runs on six hits over seven innings. He struck out 10 and walked none.
He is coming off a no-decision against the Texas Rangers on Saturday, when he allowed four runs, three earned, on six hits in 4 1/3 innings at Globe Life Park.
"I think my stuff was really good," McCullers said. "I felt I got a little bit unlucky on some balls put in play and then some hits that were infield hits. In that fifth inning there, it kind of unraveled a little bit. I felt like I was throwing some really good pitches that I wasn't getting credit for. That's how it goes."
McCullers was the American League pitcher of the month for May, when he finished 4-0 with a 0.99 ERA.
Salvador Perez is 2-for-6 with two homers against McCullers, but the Kansas City catcher could be iffy for the series finale. He sustained a left thumb injury in the eighth inning Wednesday night and left the game. Perez is listed as day-to-day.