Rookie Todd Gurley talks about his first training camp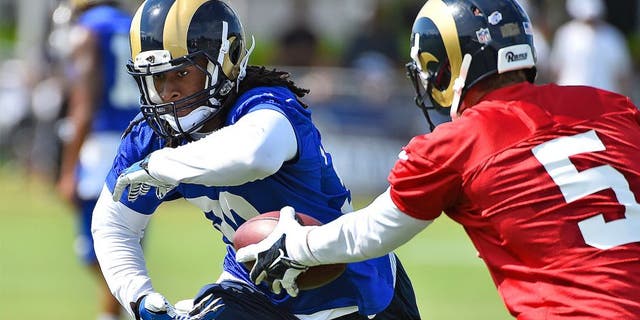 NEWYou can now listen to Fox News articles!
Though Todd Gurley appears to be ahead of his schedule in his recovery from a torn ACL last November, the rookie running back is uncertain he'll be ready for Week 1.
Reports have indicated the team is pleased with where Gurley is at in this stage of his recovery, yet remain steadfast in their belief that they won't rush him back for Week 1 if he's not ready.
Gurley appeared on "#RamsCamp Under The Lights" to discuss his first training camp so far. He allowed he doesn't even think about his knee, which is a good sign for both him and the club.
He also sees potential in the club because of the talented youth on both sides of the ball.
But his No. 1 goal, he says, is to just get healthy enough to suit up and play.
It is also the hope of the Rams and the fans they see Gurley in uniform on the field come fall, rather than on the sideline.
(h/t StLouisRams.com)