Rondo ruled out of Game 5 as Bulls take on Celtics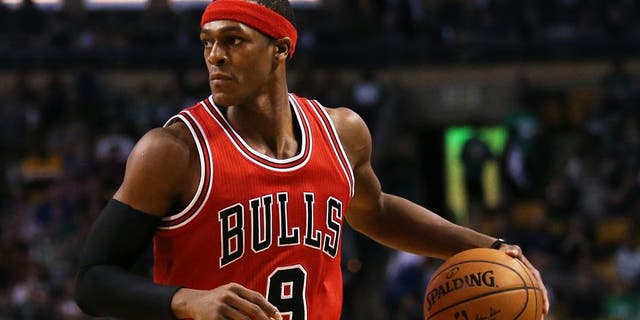 BOSTON -- When the Boston Celtics last saw their TD Garden home floor, they had just dropped the first two games of their series with the Chicago Bulls and were in danger of being a top seed upset by a No. 8 seed.
But Chicago guard Rajon Rondo, who dominated his old team in Game 2 after a decent performance in the opener, broke his right thumb in the second victory, instantly changing the series that resumes with Game 5 on Wednesday night.
The Celtics won the two games in Chicago, evening the series, recapturing the home-court advantage and creating in effect a best-of-three.
Rondo was originally ruled out, but USA Today reported Tuesday night that he might attempt to play in Game 5.
However, Rondo told reporters at Wednesday morning's shootaround that his broken thumb is not healed enough for him to play.
"I'm not playing," Rondo said. "My thumb is the same as it was last week. I think I'm Wolverine but it hasn't healed that quickly yet."
While the Bulls are dealing with Rondo's injury, the Celtics have played under the emotional cloud surrounding their leader, Isaiah Thomas, whose sister was killed just before the start of the series.
Thomas scored 33 points in a Game 4 win on Sunday in Chicago.
"Mentally and emotionally, I'm not here, so I just feed off what the guys give me," Thomas said. "They give me a lot of confidence. I can't do it without those guys. They believe in me, and being here is what makes me feel sane and somewhat normal through these tough times."
It was after that game that Bulls coach Fred Hoiberg accused Thomas of regularly palming the ball, saying: "When you're allowed to discontinue your dribble on every possession, he's impossible to guard. When you're able to put your hand underneath the ball and take two or three steps and put it back down, it's impossible to guard him in those situations."
Thomas responded: "That's not the reason why I'm impossible to cover. I've been dribbling that way my whole life."
After practice on Tuesday, Thomas said: "I was very surprised. Out of everything else that I do on the court, you want to bring that up? … I don't know what he was trying to get at.
"I only know one way how to dribble. I've been dribbling the same way my whole life. So maybe it was strategic or something, but I don't think they'll call anything."
Mix this with the verbal battle between Chicago's Jimmy Butler and Boston's Marcus Smart, and you have some genuine bad blood between the teams heading into Game 5.
Rondo got his cast off, and since shooting isn't his thing anyway, then the thought of his return sometime in this series is not out of the question. The way he played in the first two games in Boston, his cheerleading, and even trying to trip Jae Crowder while on the bench, earning a fine from the league, and you know what this series means to Rondo.
"His wrist tendon has quieted down a little bit," Hoiberg said Tuesday, "so (they) just decided to remove the cast. He's still in a splint for his thumb."
With Rondo still sidelined, Isaiah Canaan will make his first start of the season at the point in Game 5 for Chicago. He had 13 points in 34 minutes in Game 4.
The Celtics made adjustments after Game 2, changes easier to make with Rondo out. Boston coach Brad Stevens brought Gerald Green back from oblivion and into the starting lineup, and the move worked. Green scored eight points in Game 3, then added 18 points and seven rebounds in Game 4.
Before Game 3, Stevens owned a 2-10 playoff record, the worst in NBA history for any coach with at least 10 decisions. Now, the picture is brighter as his team returns home for Game 5.