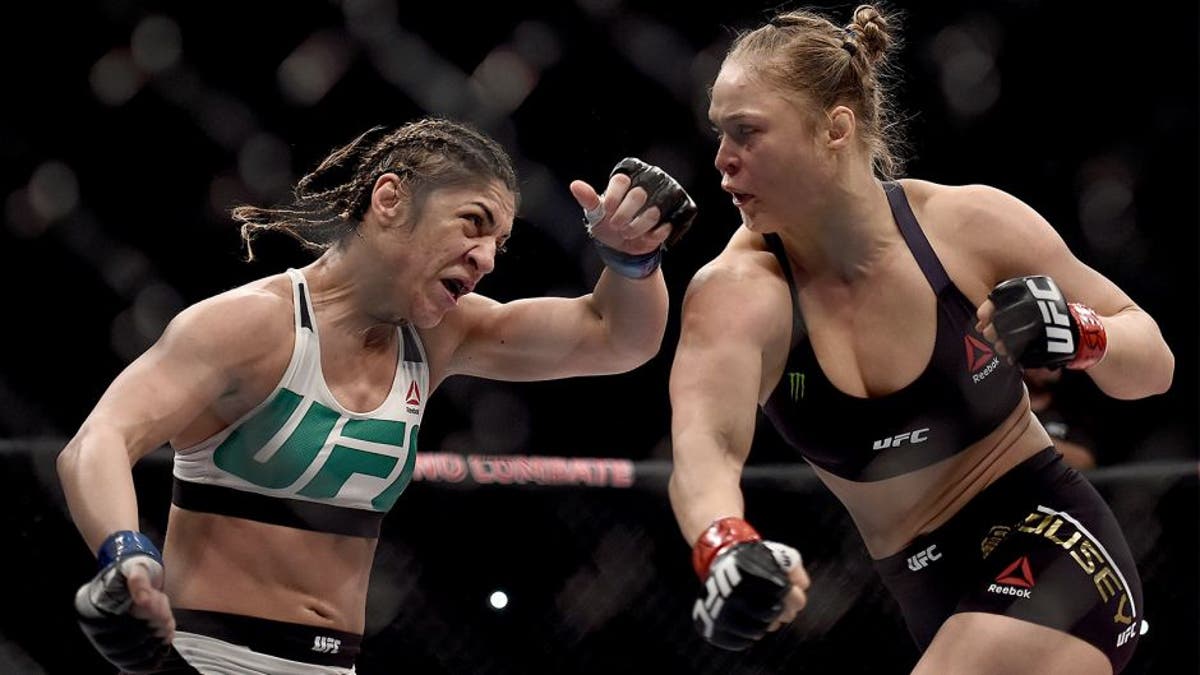 When Ronda Rousey began fighting MMA just a few years ago, she fought at 145 pounds. Now, of course, she is the UFC's 135-pound champion.
The difference between 145 and 135 pounds (and everything in between) has been hotly debated recently as fans clamor for her to fight Invicta FC 145-pound titleholder Cris "Cyborg" Justino.
Justino fights at or around 170 pounds, after cutting to 145 pounds the day before. Rousey insists that there's no reason for her to go up in weight to fight a non-UFC champion with no bargaining power.
Justino's partisans argue that Rousey is fully capable of fighting and fighting well at 145 pounds, as evidenced by her early MMA career. Rousey's coach Edmond Tarverdyan recently explained to Submission Radio why Ronda used to fight at 145 and why he doesn't have an interest in her moving up past 135 pounds, for "Cyborg" or anyone else.
"Ronda, when she gets in training, she walks around at 148 pounds. So 145, I don't want her to fight at 145. Before when she fought [at a higher weight class] the reason was, one, she was just starting her career in MMA. And number two is that we were ready to fight every day. Ronda couldn't have fights. It wasn't like Ronda's choice of fighting of 145 or 135; people didn't want to fight Ronda," he began.
"Ronda fought every time undefeated opponents in her amateur career also. Anybody that wanted to fight her, we said [to the] promotional company, 'Hey, one day before, just let us know. We'll jump into the fight.' So that's why we didn't care about the weight, whether it was 150, 148, it didn't really matter because people were not fighting her. It was a problem for us to find people to fight her. She was ready to fight every day. And whenever she was ready to fight every day, if they gave us one day's notice -- 'Hey, possible opponent, yes this person picked up the fight' -- you know, we wouldn't be healthy to make 135, but we said, 'No problem.' And those girls did not do what Cyborg has done, those girls did not cheat. Cyborg has cheated. People have to understand that. And now, no f---ing exceptions. I don't want exceptions, I want it at 135."
Tarverdyan's answer seems fair enough. He's not saying that Rousey couldn't be healthy and good at 145 pounds, he simply says that she's best at 135, and that now as UFC champion she has no reason to cater to opponents' needs any longer.
Hypothetically, of course, Rousey and Justino could fight at a catchweight -- that is, a weight in between their respective classes. The Brazilian has called for a fight at 140 pounds, but Ronda's coach used the same preceding rationale to reject the notion, out of hand.
"I honestly don't understand what she's even talking about. [Justino] needs to make the weight to fight," he insisted.
"I don't understand catchweights. I don't like catchweights. I don't understand what she's talking about [with] catchweights. I don't even like it in boxing. There is a weight division and everybody should follow the weight divisions and fight at that weight for the title . . . Ronda is a champion at 135 right now. [Justino] has done things in her past to put fighters' lives in danger [using banned steroids]."
Tarverdyan echoed Rousey's own idea that if Justino could fight at 145 on steroids at her most well-muscled self, getting off the banned gear could allow her to make the 135-pound division. That implies, of course, that Justino still uses banned steroids, and it is a charge that "Cyborg" has threatened legal action over, since she says she has passed multiple drug tests in recent years.
"If [Justino] is off what she was doing, she should be able to make 135," Tarverdyan said.
"[Bantamweight] is the weight for the UFC title. So, she's been saying 140 or something like that, or 'the fans deserve to see the fight.' Definitely they deserve to see the fight. So, make the weight and the fight will happen. No problem."
If Rousey and Justino ever do fight, most observers will look it largely as a grappler vs. striker type of bout since Rousey's background is in judo and Justino's is in Muay Thai kickboxing.
Tarverdyan disagrees. He claims that Ronda has become a much more technical and truly powerful striker than Justino.
"No. Ronda beats her in striking," he said.
"[Justino] overwhelms people, she pushes her punches and she throws a bit heavy, you know, heavier than some of these opponents, but her opponents give up on her. Ronda's knockout was a knockout this last fight" against Bethe Correia at UFC 190.
Even though Justino has a well-deserved reputation as a dangerous striker, Ronda's coach says that his fighter out-techniques and out-quicks her. "Everybody saw [Ronda's] hand speed, the power. One shot, boom. Out. That's punching," he concluded.
"And Ronda's only going to be punching better from now on, definitely. So I've never been a fan of (Justino). I think she's slow, she just overwhelms people because of what she's been doing, I think. And she can box a bit more than the others, and she's been doing it longer and it doesn't surprise me. Ronda is the better athlete. Ronda is quicker, stronger and faster. That's it."