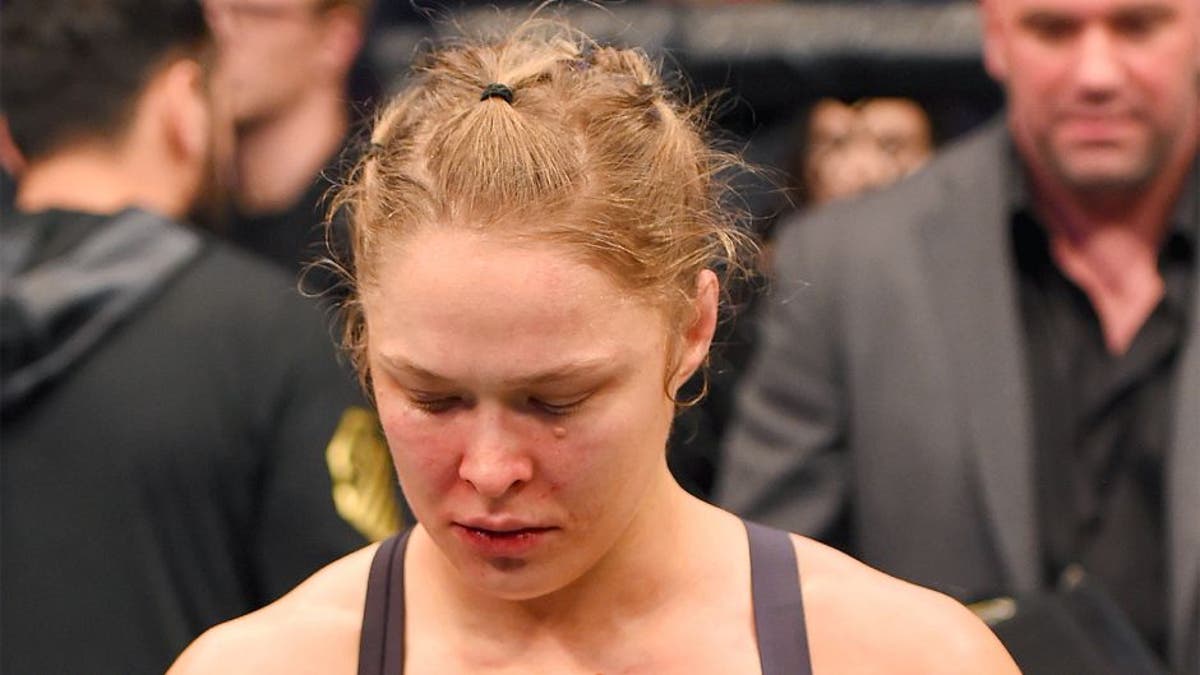 For the first time since suffering a devastating loss to Holly Holm last November, former UFC women's bantamweight champion Ronda Rousey opened up about her thoughts in the moments immediately after she fell victim to a knockout for the first time in her career.
The fight ended with a shocking head kick that was delivered from Holm that rendered Rousey unconscious while also handing the former Olympian the only defeat of her mixed martial arts career.
As she fought back tears while appearing on "The Ellen Show" on Tuesday, Rousey says that as soon as she realized what happened, her thoughts drifted to suicide because without being the most dominant athlete in the world, who was she going to be now?
"I was sitting in the corner and I was like what am I anymore if I'm not this? I was literally sitting there and like thinking about killing myself in that exact second," Rousey revealed. "I'm like 'I'm nothing', I'm like what do I do anymore? And no one gives a s--t about me anymore without this."
It was a very painful moment for Rousey but she says it passed moments later when she spotted her boyfriend, fellow UFC fighter Travis Browne, who was there at the fight to support her.
Rousey admits spotting him standing there next to her was exactly what she needed to snap out of the momentary depression from the loss and realize that she still had plenty to live for even if she was no longer undefeated nor UFC champion.
"To be honest, I looked up and I saw my man Travis (Browne) was standing there and I looked up at him and I was like I need to have his babies, I need to stay alive. Really that was it," Rousey said.
"I think I've only told him that but that's what I was thinking. I was meant to have him when I was at my lowest. I don't know if I would have made it without him."
Rousey says it wasn't easy getting past the loss to Holm and following the fight she didn't even really start to feel like herself again until the next morning when the cobwebs lifted from her head after the knockout.
Even then, Rousey wasn't at her best but she finally started to contemplate the future while dissecting what went wrong and how she could come back from the defeat.
"I did a lot of thinking like why did this happen? Why did this have to happen like this?" Rousey said. "I do believe all the best things come from the worst things. Every worst thing that happened in my life, results in the absolute best things and I'm trying to think what is the reason for all this? I'm thinking of what my actual purpose is and maybe just winning all the time isn't what's best for everybody.
"I felt like maybe my role, everyone has their moment of picking themselves off the floor and I'd gone through several of mine, but no one had actually seen me go through it. Maybe I just had to be that example of picking myself off the floor for everyone. Maybe that's what I'm meant for."
As awful as the loss was in the moment, Rousey has promised that she is returning to the Octagon later this year and will fight to reclaim what was once hers.
She won't walk into the cage as champion and she no longer has a zero next to her name when Bruce Buffer announces her record, but Rousey says being undefeated is more than just statistics on a resume that reads wins and losses.
It's a state of mind.
"I really do believe I'm still undefeated because being defeated is a choice," Rousey said. "Everybody has losses in their life but I choose to always be undefeated."
Rousey knows she has to wait until later this year to return but she's wants nothing more than to avenge her loss to Holm and find some sense of redemption following a very painful few months since their last fight in Australia.
"Of course I want to fight Holly, I want to beat her and make everything right again," Rousey said. "I want to be the one to beat her."