Ronda Rousey: 'Cyborg' is waiting to get offered enough money to get her ass kicked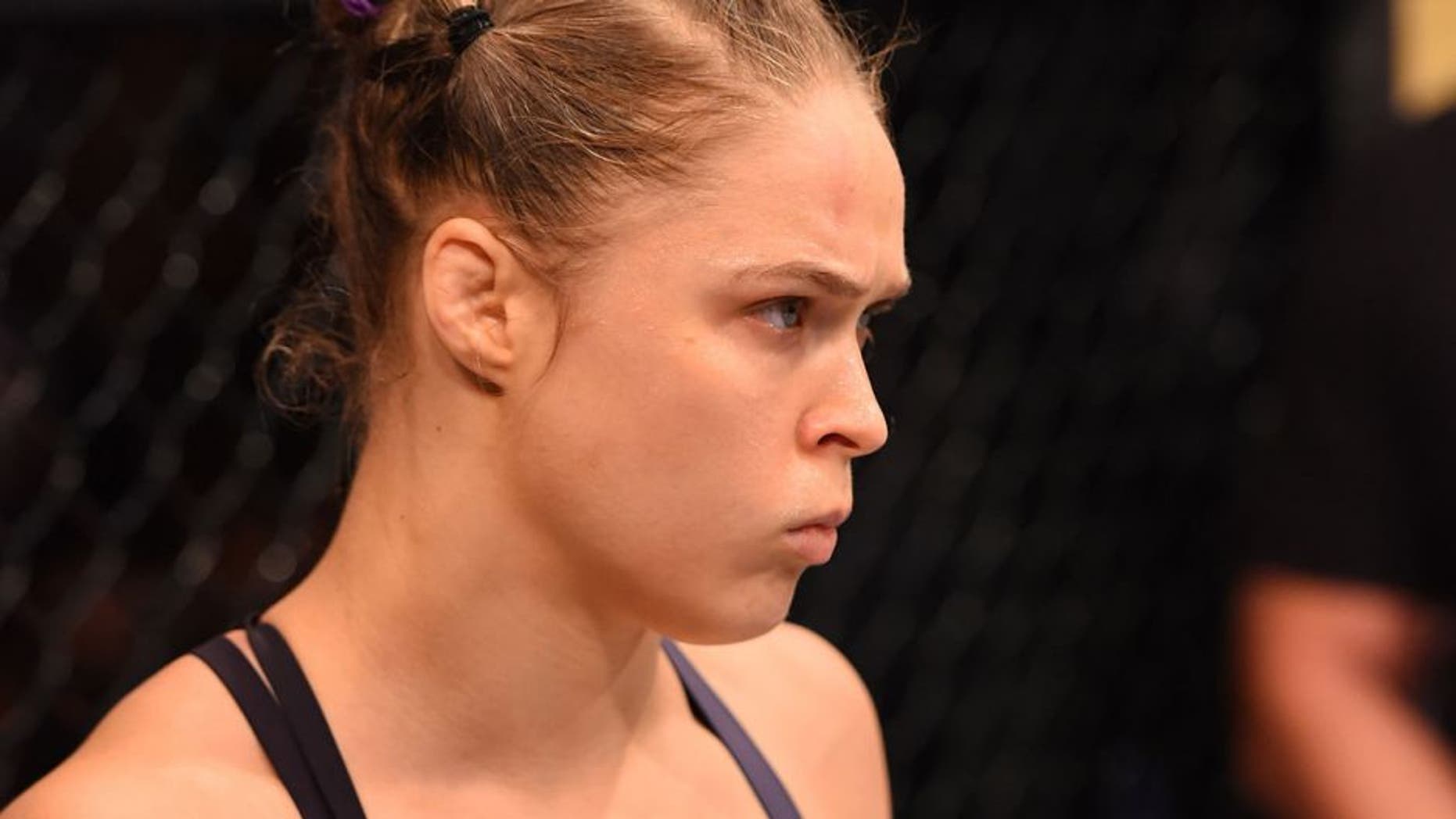 The biggest obstacle preventing a potential megafight between UFC women's bantamweight champion Ronda Rousey and current Invicta FC featherweight champion Cris "Cyborg" Justino has seemingly always been about weight.
"Cyborg" fights at 145 pounds and has struggled with the idea of cutting down to 135 pounds for a shot at Rousey in the UFC.
Well, according to Rousey she isn't buying the whole weight cutting issue and believes the delay in this fight coming together is actually driven by money.
Rousey took part in a question and answer via Reddit on Monday and gave her honest opinion about "Cyborg" and why they haven't fought yet, but it has nothing to do with shedding 10 more pounds to meet at bantamweight.
"Sincere opinion about 'Cyborg' -- she's just waiting to be offered enough money to get her ass kicked, cause she knows she'll get her ass kicked," Rousey said. "I know for a fact she can make the weight. She consulted with Mike Dolce (my current nutritionist) before I ever started working with him, and after consulting with her he said he could get her in 'the best shape of her life' at 135.
"She then started being represented by Tito Ortiz and all talk stopped. The delay is all about money, not her weight. She made 145 pumped full of steroids. She can healthily make 135 without them."
Rousey's reasoning to point at money as the central problem of putting the fight together comes from Justino's current bouts taking place in Invicta FC and the lack of interest in anyone paying to see her compete right now.
Rousey says "Cyborg" is losing her promoter money hand over fist and the only way she can make a real paycheck is to fight against her in the UFC. Otherwise, Rousey believes "Cyborg" just fades back into the shadows and no one will hear from her again.
"Her shows that she headlines lose thousands of dollars, and the majority of the tickets are given away because no one will buy them. She needs me," Rousey said. "So pretty much we're waiting for her to realize that she needs to fight me before I retire or she'll never have enough money to retire."
Rousey is undoubtedly one of the biggest and most talked about stars in all of sports today. Her fight at UFC 190 against Bethe Correia was a rousing success when it came to pay-per-view buys as well as social media buzz where she generated nearly a million messages on Twitter that night.
Rousey is becoming a legitimate double threat with her acting career as well. She will be co-starring with Mark Wahlberg in "Mile 22," which begins filming next year. She will also star in the biopic about her life, based on the autobiography "My Fight/Your Fight" that Rousey wrote with her sister and released earlier this year.
All of that celebrity has Rousey feeling very secure, but "Cyborg" doesn't have nearly as much luxury. That's why Rousey would be happy to close out her career by sending "Cyborg" packing, but whether or not the fight actually comes together or not is still a mystery.
"I would like me kicking her ass be my retirement fight," Rousey said. "But whether she steps up or not I'll walk away undefeated and happily ever after regardless."