Ron Rivera: Extra work with receivers helping Cam Newton's accuracy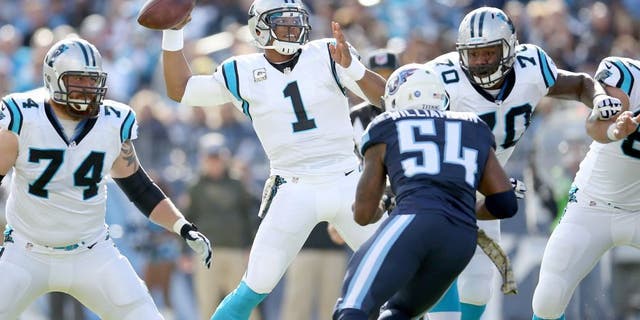 While Cam Newton has been one of the best quarterbacks in the NFL this season, one thing that we don't typically get to rave about with him is his accuracy. Fortunately, that wasn't the case in Week 10 against the Tennessee Titans.
Newton completed 21 of 26 passes in the victory, which sent the Carolina Panthers to 9-0 on the season.
When asked about his impressive completion percentage, head coach Ron Rivera had an explanation for how it all came together for his quarterback, according to Bill Voth of Black and Blue Review.
"It was 81 percent? Well, again, he continues to work with the receivers," Panthers coach Ron Rivera said, via Bill Voth of Black and Blue Review. "It's all the extra work that they're putting in as a group, as a unit, as individuals. When you watch them in practice and something happens, as soon as we go to the defensive side, him and whoever he had trouble with, they'll go to the other field and they'll run that route until they get it right. So, I just think that they're putting in a lot of extra work to give themselves a chance to get better."
Well, there you have it. Newton's strong play is just the continuous work that he's putting in with his wide receivers. If he continues to throw the ball like he did on Sunday, there's no reason to think that he can't continue to post impressive percentages throughout the remainder of 2015 and beyond.
(h/t Pro Football Talk)
MORE NEWS: Want stories delivered to you? Sign up for our NFL newsletters.