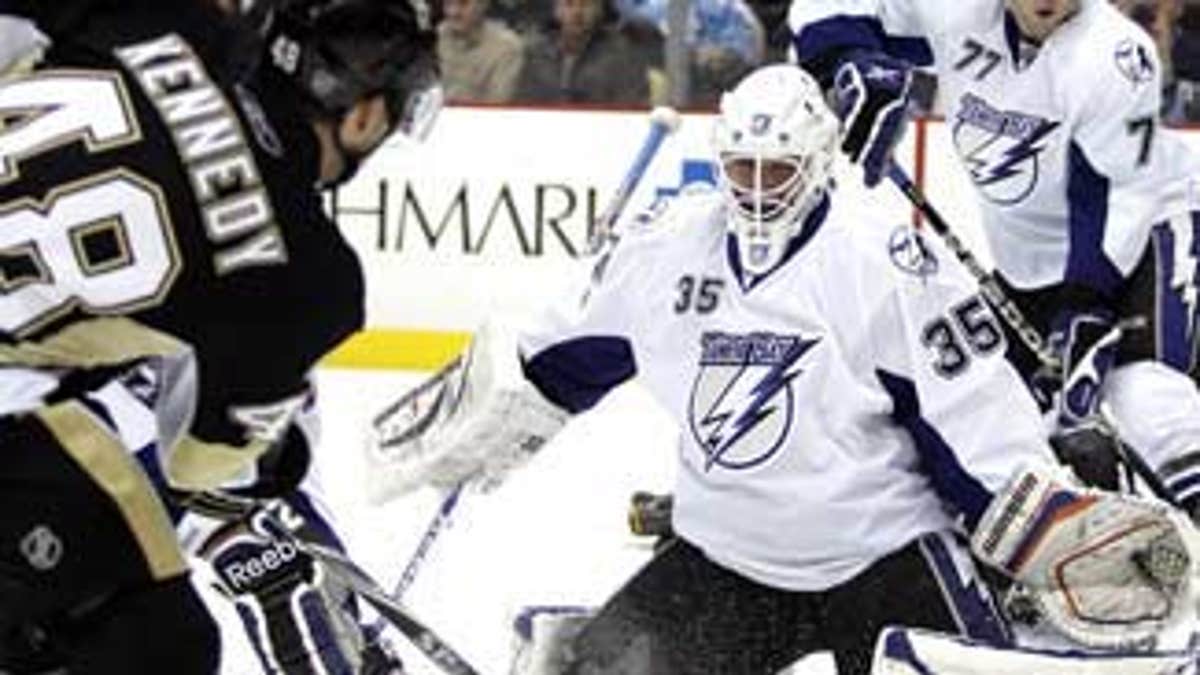 TAMPA -- When Lightning GM Steve Yzerman acquired Dwayne Roloson on New Year's Day from the New York Islanders, even he probably couldn't have envisioned what the 41-year-old goaltender was going to do during Game 6 of the Eastern Conference Quarterfinals on Monday night.
After Jordan Staal pulled the Pittsburgh Penguins into a 2-2 tie at 3:48 of the third period, Maxime Talbot was bearing down on Roloson just seconds later with a clear-cut breakaway. With the Lightning trailing 3-2 in the series, not only was the game on the line, but so was the season.
Roloson stopped Talbot not once, but twice, then made another brilliant save on Pascal Dupuis to keep the game tied. Thirty seconds later, Steve Downie scored the game-winning goal that allowed the Lightning to prevail 4-2 and force a decisive Game 7 on Wednesday night in Pittsburgh.
"That was a series-changer for sure. He saved the game for us," teammate Steven Stamkos said. "We see it every day in practice. He just never quits. He's defying the odds, doing it at his age is unbelievable. He was our best player."
"The three big saves … it's a momentum turner, completely," said defenseman Eric Brewer, who blocked six shots. "He's just fantastic as he has been all series. He saved us."
Yzerman signed Dan Ellis to a two-year contract during the offseason, but the Bolts' GM realized he needed an experienced upgrade if his team was going to be a serious threat in the postseason. The move is likely one of the reasons he's been nominated for GM of the Year.
Roloson was a revelation in Tampa, going 18-12-4 with a 2.56 goals-against average and .912 save percentage. He also had 4 shutouts in 34 games after posting just 2 shutouts in his previous 146 games.
It won't be considered a highlight-reel save, but Roloson also stopped Chris Conner's penalty shot during the second period after the puck bounced off Conner's stick. He gathered it and fired a bad-angle shot, but Roloson made the easy stop.
"Just stay with the puck. You never know what can happen," Roloson said. "Stranger things than that have happened and it still ends up in the net. You just have to stay focused and stay focused on the job."
Roloson made 27 saves Monday and has a 2.06 GAA and .942 save percentage through six games in this series. But if the Lightning make it to the second round, Roloson's three saves on Talbot and Dupuis will be remembered as the ones that got them there.
"All goalies have to be outstanding in the playoffs, in key moments even more," Lightning coach Guy Boucher said. "And that was a key moment. It was an uplift for the team."
Follow Dave Lozo on Twitter: @DaveLozo