Rodriguez hires Vince Amey as Arizona's defensive line coach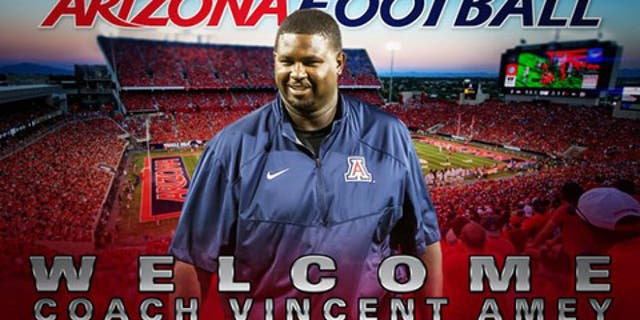 TUCSON, Ariz. -- Rich Rodriguez completed the overhaul of his defensive coaching staff at Arizona by hiring former Arizona State player Vince Amey to coach the defensive line.
Amey most recently was a football analyst for the program in 2015.
"I am thrilled to hire Vince to an on-field coaching position," Rodriguez said. "He has strong relationships with our current players, is extremely knowledgeable about the defensive line position and will be another valuable asset for us in recruiting."
As an analyst, Amey assisted with the day-to-day duties of program management with a focus on film breakdown. Prior to his role in 2015, Amey was a strength and conditioning coach for the Wildcats for three seasons.
Amey lettered for four seasons at ASU as a defensive tackle and was a starter on their 1996 Pac-10 Championship team. He played in the NFL, NFL Europe and Arena Football League, playing several seasons with the Arizona Rattlers before starting his coaching career at Chaparral High School in Scottsdale.
Amey is the fourth new hire on Rodriguez's staff -- joining defensive coordinator Marcel Yates and defensive backfield coaches Donte Williams and Jahmile Addae.
Arizona opens spring practice Friday, the first of 15 practice sessions before concluding on March 25. The Wildcats will not hold a spring game, but fans are invited to an open practice on Friday, March 4, at 6 p.m. at Arizona Stadium.