Rockets hand Spurs their worst home playoff loss in franchise history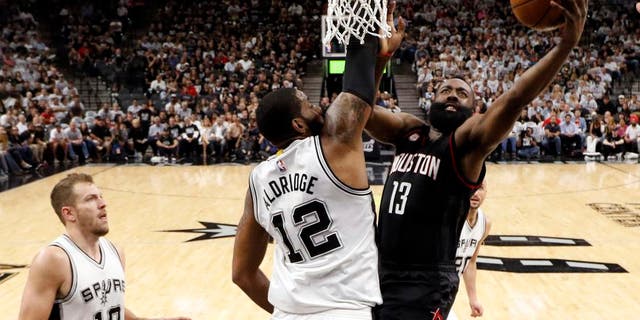 The Spurs have been so good for so long that it's downright shocking to see them get completely destroyed in any single postseason contest. But that's exactly what happened in San Antonio on Monday, as the Rockets put a 126-99beating on the Spurs in Game 1 that was their worst home playoff loss in franchise history.
Houston was clicking from the very start in this one. The Spurs looked a step slow on every one of the Rockets' offensive possessions, as the ball continuously found the shooters for wide-open looks from three-point distance. The Rockets led by as many as 15 points in the first quarter, and drained 12 first-half three-pointers to take a 69-39 lead into the halftime break.
The Rockets finished with a franchise-record 22 three-pointers made on 50 attempts, and their lead ballooned to 39 points in the second half before the game was settled by a margin of 27 points.
The Spurs, meanwhile, never found anything close to an offensive rhythm. Kawhi Leonard finished with 21 points and 11 rebounds, but finished just 5-of-14 shooting in more than 32 minutes on the floor. The big lead that the Rockets so quickly amassed, combined with their never-ending barrage of three-point bombs, had a demoralizing effect on a San Antonio team that won 61 games during the regular season -- at least for one night.
Gregg Popovich will certainly remind his team of the way last year's second-round series against the Thunder played out, when San Antoniowas on the other side of the blowout in the first gameof that series. The Spurs looked unstoppable in a 32-point Game 1 victory, before Oklahoma City took four of the next five to eliminate the Spurs in six games.
This year's Houston Rockets, however, may simply have too much firepower to suffer a similar fate.