Rio 2016: Ryan Lochte returns to the pool with finals spot in 4x200 freestyle relay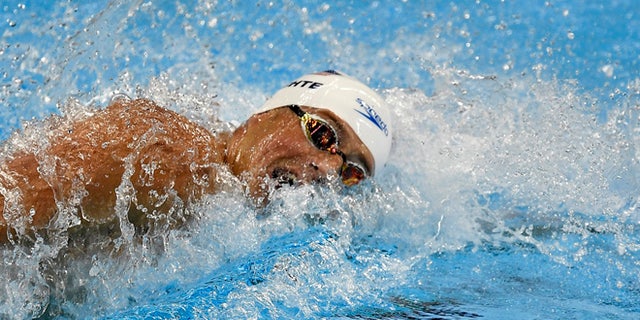 NEWYou can now listen to Fox News articles!
Ryan Lochte's return to the Olympic pool started off with a win.
The 32-year-old swimmer won the first of two events on Tuesday in the 4x200 freestyle relay with a solid win alongside teammates Jack Conger, Gunnar Bentz and Clark Smith.
The final is set for Tuesday night and the U.S. will take on teams from Belgium, Japan, Russia, Great Britain, Germany, Australia, and the Netherlands.
Lochte's return to the Olympic stage did not seem secure at the U.S. Olympic trials earlier this summer, when an injury to his groin prevented him from dominating in his usual style.
Thee 11-time Olympic medalist, of Cuban and Spanish descent, only clinched sports in the 4x200 freestyle relay and 200m individual medley — a far cry from his five events during the London 2012 games.
"I'm just happy that I'm going to Rio," he told reporters last month. "You can never go in knowing that you're going to make the team, just because the U.S. is one of the hardest countries to make the Olympic team."
On Wednesday Lochte will jump back into the pool for the 200m individual medley, for which he took silver four years ago. He is expected to continue his rivalry with teammate Michael Phelps.
"We are all expecting that [Lochte] is going to be, again, a star. Probably not as shinning as we are used to see him, but experience always counts," Fox Sports commentator Fernando Fiore told Fox News Latino recently. "These superstar athletes get that little bit of push in the last minute, and usually they accomplish what they look for. I will say that we will see [his medal] count go up."
Now in his fourth Olympic games, Lochte is more mature in his training and eating habits, which will help him add to his legacy.
"I was always the kid growing up that could eat anything, go to McDonald's, eat candy, drink soda, go out, party all night, and still perform and do good the next day. That's definitely not the case anymore. My nutrition is probably off the charts from what it used to be," Lochte told NBC Olympics.
Lochte's family knew he was a natural-born swimmer when he fell into a pool at around 3 years of age and, instead of crying when he was rescued, he was laughing. He jumped back in soon after.
His Olympic debut came many years later at the 2004 Athens games where he swam in two events – 200m individual medley and 4x200m freestyle relay. He got silver and gold, respectively.
It was then that he got an Olympic rings tattoo that is different than everyone else's.
"I have flames on each ring. You know why I did that? I had the regular rings and then I was the first person to get 'em right there," he told NBC Olympics. "No one else has gotten it there. And then all of a sudden I started seeing people get it more and more and I was like ohhhh. So I wanted it changed. I put flames on each ring."
At the 2008 Beijing Olympics – where he famously ate McDonald's for three meals a day everyday – took home two gold medals and two bronze medals. He earned five more medals in London.
Before Lochte even made it into the pool on Tuesday, he was already making headlines — thanks to a Playboy playmate and his 95-year-old grandmother.
The swimmer posted a video on Snapchat of himself and Playboy playmate Kayla Rae Reid hanging out at the Beats House in Rio de Janeiro over the weekend. The two have reportedly been dating since March.
As for his grandmother, Lochte tweeted a sweet video of her being pushed in a wheelchair while carrying a homemade Olympic torch at her nursing home.
"My grandma at age 95 carrying the #olympictorch at her nursing home. Representing #USA" he captioned the video.
Lucia I. Suarez Sang contributed to this report.
Like us on Facebook
Follow us on Twitter & Instagram