Rio 2016: Brenda Martinez's Olympic dreams dashed, for now – vows return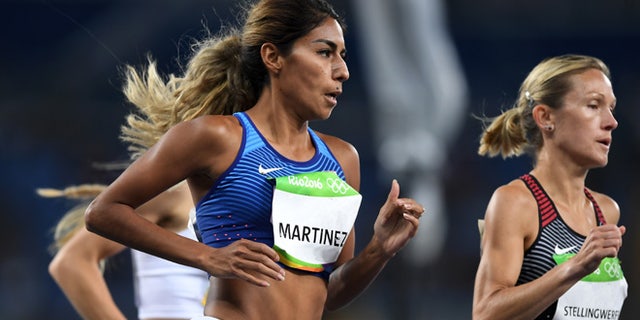 Brenda Martinez's hope of reaching the podium at the Rio Olympics came to an end on Sunday night when she finished dead last in a semifinal of the 1,500-meters.
The 23-year-old Californian finished well behind leaders Faith Chepngetich Kipyegon of Kenya, Dawit Seyaum of Ethiopia and American Shannon Rowbury, who all qualified for the final along with Besu Sado of Ethiopia and Laura Weightman of Great Britain.
While disappointed, Martinez vowed after the race that she will return to the Olympics.
"Behind every strong, independent women lies a broken little girl who had to learn to get back up! I will be back!" she wrote on Twitter.
Martinez's journey to the Rio Games garnered some attention after she failed to qualify for the 800-meter race after getting tripped up at the Olympic trials, but she then recovered to earn a spot in the 1,500 meters by just .03 seconds.
She was the only one of two Latina members of the U.S. 2016 Rio Olympics track and field team, along with marathoner Desiree Davila Linden.
"It's a huge deal for me, and I know there's not that many Latinas in the sport of track and field, especially competing at a high level, so I think that in itself is a big accomplishment," she told Fox News Latino ahead of the games.
The daughter of Mexican immigrants, Martinez has been breaking barriers all her life.
She was the first member of her family to attend college and the first American woman to win a medal in the 800-meters at the International Association of Athletics Federations' world championships.
Yet Martinez's trajectory was far from easy.
Her parents had to work two jobs each to make ends meet and pay for her track fees. At one point, she couldn't even afford a good pair of running shoes.
Because of that experience, she offers a summer camp for young girl athletes, covering all their expenses.
"I always wanted to give back" Martinez told FNL. "The camp is to help the girls, to make them feel confident and believe in themselves."
The 1,500-meter finals are set for Tuesday at 9:30 p.m.
Maria Jose Sada contributed to this report.
Like us on Facebook
Follow us on Twitter & Instagram