Right price: Newly acquired Norris stars in debut with Tigers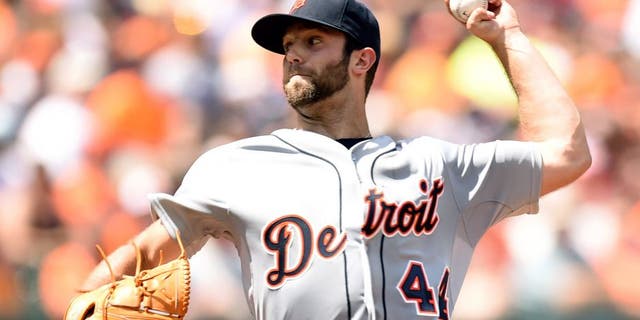 Daniel Norris forged a Price-less memory in his debut with Detroit.
Norris took a three-hitter into the eighth inning, J.D. Martinez hit a three-run homer and the Tigers beat the Baltimore Orioles 6-1 on Sunday to earn a split of the four-game series.
Norris (2-1) was obtained by the Tigers on Thursday in the deal that sent former Cy Young Award winner David Price to Toronto. Assuming the spot in the rotation held by Detroit's ace, the 22-year-old Norris shined in his seventh career start.
''You always want to make a good impression,'' the rookie said. ''If you go out there and try to do too much the wheels can fall off rather quickly. I thought I did a fine job of staying within myself and pitching my game.''
Norris allowed one run, four hits and a walk in 7 1/3 innings - the longest outing of his career. The left-hander hadn't started in the majors since April 30, and was 3-10 with a 4.27 ERA for Triple-A Buffalo this season.
On this day, however, Norris was exceptional.
''I thought it was an outstanding first outing,'' Tigers manager Brad Ausmus said.
The only glaring flaw in Norris' performance came in the fourth inning, when Chris Davis homered on a 2-1 pitch. Still, the youngster provided a glimpse of his potential against a contender that won seven of its previous eight games.
''These are the type of guys you get back for David Price, OK?'' Orioles manager Buck Showalter said. ''He's got a chance to be a good pitcher for them. The guy they gave up is (good) right now. That's the way it works.''
After scoring 20 runs in the first three games of the series, the Orioles went quietly against a team that apparently turned the page to next year by dealing Price, closer Joakim Soria and slugger Yeonis Cespedes before Friday's non-waiver trade deadline.
''Norris did a great job,'' Ausmus said. ''I think he's going to be a very good pitcher, but when you lose guys like David Price and Soria, that's tough.''
Despite the loss, Baltimore went 5-2 on a homestand that began with a sweep of the Atlanta Braves.
''If you go in there and ask our guys would they have taken that before we got here, no, they were shooting for all seven,'' Showalter said.
Ubaldo Jimenez (8-7) gave up six runs and six hits in 4 2/3 innings. He's 1-4 in his last six starts and has yielded at least six runs in three of his last four appearances.
Martinez homered on a 1-2 pitch with two outs in the first after Jose Iglesias singled and Ian Kinsler walked. He has 29 home runs this season, six more than his previous career high.
Davis got Baltimore to 3-1 in the fourth with his 26th home run, the fourth during the homestand.
Jimenez retired 12 straight batters following Martinez's home run. The streak ended with a fifth-inning double by Rajai Davis, and Anthony Gose followed with an RBI single. Iglesias hit a triple, and Kinsler chased Jimenez with a run-scoring single for a 6-1 lead.
Kinsler went 2 for 3 with a walk, his 40th multihit game of the season and fourth of the series. He went 12 for 17 in the four games.
STREAKY
Detroit: Kinsler has hit safely in 11 of his last 14 games, batting .443 over that span. He's hitting .347 (101 for 291) in 71 career games against the Orioles.
Baltimore: J.J. Hardy and newcomer Gerardo Parra both had their 15-game hitting streaks end.
TRAINER'S ROOM
Tigers: Martinez started despite leaving in the third inning Saturday after fouling a ball off the inside of his left knee. ''It's better today than it was yesterday,'' he said Sunday morning.
Orioles: Baltimore planned to recall Tyler Wilson from Triple-A Norfolk to start Monday night against Oakland in place of RHP Chris Tillman, who has a right ankle sprain. Jorge Rondon was optioned to Norfolk after the game.
ON DECK
Tigers: Detroit gets Monday off before opening a three-game series at home against the AL Central-leading Kansas City Royals.
Orioles: Baltimore travels to the West Coast for the only time this season, beginning with a three-game series in Oakland on Monday night. Trips to Anaheim and Seattle follow.