Rico Abreu lands ride with top truck team for 2016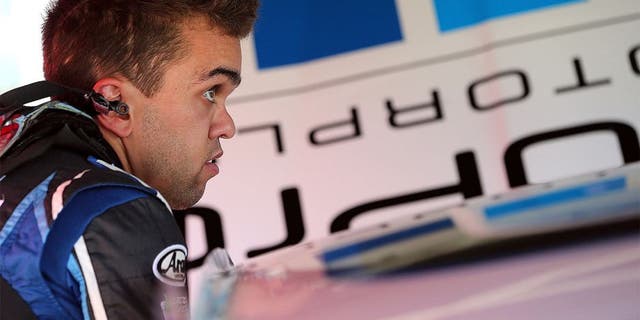 Rico Abreu's dream of racing full time in one of NASCAR's major series has come true.
And he'll do so with an elite organization, too.
Abreu, who stands just 4-feet-4 inches tall, will drive the No. 98 ThorSport Racing Toyota in the 2016 Camping World Truck Series season under the guidance of veteran crew chief Doug George.
The Sandusky, Ohio-based organization owned by Duke and wife Rhonda Thorson is the longest continuously operating truck team and a winner of back-to-back truck drivers titles in 2013 and 2014 -- with veteran Matt Crafton, who will now be a teammate and mentor to the soon-to-be 24-year-old Abreu.
"It's been tough to keep this a secret," Abreu said on Friday in announcing his plans for 2016. "It's an honor to be driving for ThorSport Racing, Duke. Proud to be making this step."
Still a relative newcomer to stock-car racing, Abreu -- a native of St. Helena, California -- earned one win, four top-fives and eight top-10s last year on the way to finishing his first NASCAR K&N Pro Series East season fifth in points.
"Competing full time in the NASCAR K&N East Series prepared me the most for this opportunity," Abreu said. "My first time being in stock cars and getting a full season under my belt helped me understand how to race and put together full races, longer races, than I was used to running in open-wheel cars."
Abreu made his Truck Series debut in November at Phoenix International Raceway where he finished 28th after being caught up in a wreck.
To gain eligibility for the 2016 season in trucks, Abreu also competed in the 2015 truck finale at Homestead-Miami Speedway, coming home 13th.
"This is one of the best opportunities I have been given," Abreu said of going full time in trucks. "I appreciate the support and the hard work that everyone at ThorSport Racing and Curb Records has put into all of this for me to live my dream. I'm thankful to be a part of Duke's team and am excited to race with all my ThorSport Racing teammates and crewmembers.
"My team, sponsors and fans will know that I'm giving 100-percent effort every time I'm at the track and on the track. My goal is to get the most out of every lap and every opportunity this season."
Abreu has spent this week racing at the Chili Bowl Midget Nationals in Tulsa, Oklahoma where he turned heads throughout the racing world last year by winning one of dirt-track racing's most prestigious events over a tough field of competitors that included 2014 Sprint Cup Series Rookie of the Year Kyle Larson and two-time XFINITY Series champion and Sprint Cup driver Ricky Stenhouse Jr.
Just days after his Chili Bowl triumph, Abreu was signed by HScott Motorsports with Justin Marks to run the full 2015 season in the K&N Pro Series East -- a feeder series to NASCAR's highest levels.
Abreu competed in more than 100 open-wheel races in 2014 in the United States and New Zealand. He posted 26 wins across 410 winged and non-winged sprint car races, 360 winged sprints, and USAC midget competition in which he also won the national championship.
"Rico has proven himself at every level in racing to date, and is a winner and true racer in every sense of the word," Duke Thorson said. "He brings a style and attitude that reflects who we are, and what we are all about. We are prepared to give him every single opportunity to win, and look forward to seeing what he can do in his first full-time season in the Truck Series."