Report: RB LaMichael James makes Dolphins' 53-man roster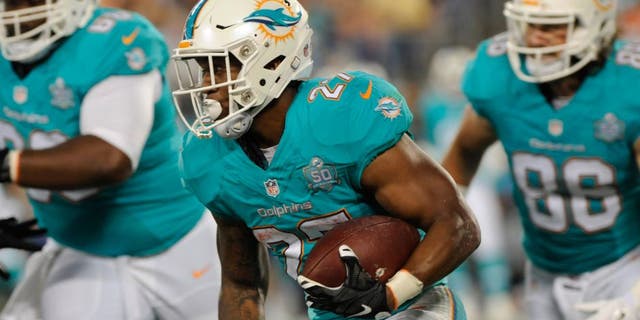 Miami Dolphins rookie Jay Ajayi suffered a broken rib in Thursday's preseason finale, further complicating the team's running back situation. Lamar Miller is the lead back, with Damien Williams, LaMichael James, Mike Gillislee, and Ajayi as his backups.
It's highly unlikely that the Dolphins will keep all five backs, which means one or two could be cut. According to the Palm Beach Post, James won't be one of them. He's reportedly set to make the 53-man roster.
While Ajayi reportedly isn't a candidate to be placed on injured reserve, James' spot on the roster could mean just the opposite. Placing Ajayi on IR is one possibility, as is releasing Gillislee.
Miller, Williams, Ajayi, and James are all locks to make the team, which would leave Gillislee on the outside looking in.
James is looking to revive his career after failing with the San Francisco 49ers. He hasn't lived up to being a second-round pick in 2012, having minimal success since coming into the league. With the Dolphins, he'll look to get back to being a dynamic playmaker as he was at Oregon.
(h/t Palm Beach Post)