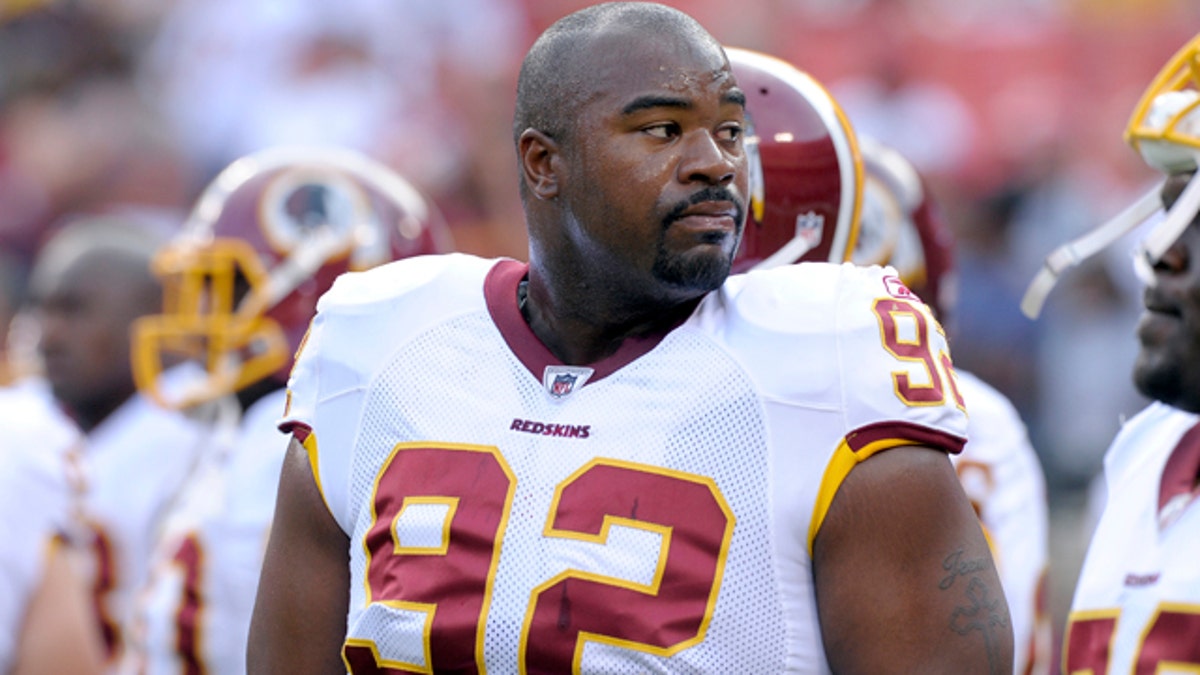 WASHINGTON -- Albert Haynesworth has been linked to another off-field accusation of misbehavior, this time by a waitress who claims the Washington Redskins defensive lineman sexually abused her at a restaurant, a claim his agent denied.
Chad Speck found himself in familiar territory in defending his client after WRC-TV reported that, according to a police report, the waitress said Haynesworth touched her breast while paying his bill early Sunday at a downtown Washington hotel.
"There seems to be no truth to these allegations," Speck said Monday. "And we are currently evaluating the facts and considering our own legal actions against those involved."
D.C. police spokeswoman Officer Tisha Gant said an investigation in under way over something that happened at the hotel, but she would not say for what alleged offense or confirm whether Haynesworth is a suspect. No charges have filed.
Redskins spokesman Tony Wyllie issued a statement that has become customary: "We're gathering all the facts and until then we have no comment."
Negative reports on Haynesworth's behavior have become so common that even teammate Phillip Daniels tweeted the latest news and added: "Man does it ever end."
Haynesworth's troubles come both on and off the field, from his disputes over playing time and conditioning with coach Mike Shanahan to his mounting legal issues. At one point last summer he was juggling as many four court-related matters, including lawsuits from a bank, an exotic dancer, a man injured in an automobile accident, and complaints from his ex-wife that he wasn't paying her health insurance or their children's bills.
More came in 2011. On Jan. 4, he was ticketed for going 64 mph in a 45 mph zone in Fairfax County, Va. Earlier this month, in the same county, he was accused of road rage by a man who claimed he was tailgated and then assaulted by Haynesworth.
On Saturday, some 24 hours before the hotel complaint, Haynesworth appeared at a police station and was formally charged with misdemeanor assault in the road rage investigation. He is scheduled to appear in court on March 31 on that charge.
Speck said Haynesworth is innocent and that the accuser in that case is seeking fame and money.
Also this weekend, Redskins kick returner Brandon Banks and a friend were stabbed outside a downtown D.C. nightclub. Banks' agent initially said Banks had a wound to the side that required stitches and was expected to be released Sunday. But Banks is still hospitalized and now hopes to go home Tuesday.
The former two-time All-Pro Haynesworth got in constant trouble with Shanahan, skipping offseason workouts and failing to pass a conditioning test at the start of training camp. Haynesworth, 29, did not start a game this season, despite being in the second year of a seven-year, $100 million contract.
Shanahan ultimately suspended Haynesworth without pay for the final four games of the season for "conduct detrimental to the club." The Redskins are expected to try to unload Haynesworth in the offseason, either by cutting him or trading him.