Real superstar Ronaldo says he will never become a coach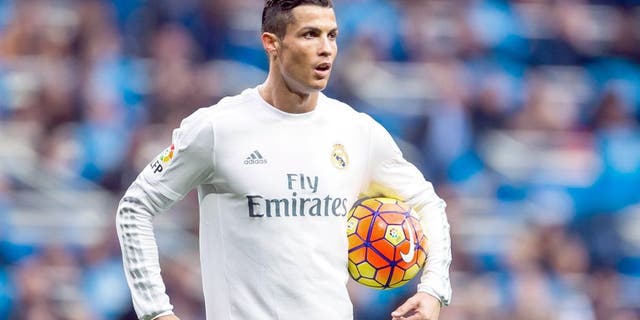 NEWYou can now listen to Fox News articles!
Real Madrid superstar Cristiano Ronaldo says he will not become a coach after his playing career finishes and instead intends to "live like a king."
In a wide-ranging interview with Spanish newspaper El Mundo, he admitted that football doesn't always hold his interest.
Ronaldo's Real Madrid will come up Gary Neville's Valencia on Sunday, and while his former teammate has made the move into coaching the Portuguese superstar insists his focus will be elsewhere.
The former Manchester United man, says he fully intends to enjoy himself once he finally decides to call time on his glittering career.
"I have a top life, but I think I am going to enjoy it more when I finish my career, when I have time to do what I like," he said.
"This Saturday there is a boxing bout in Las Vegas and I would like to take my friends and family to see it, and I can't because I don't have time.
"I am not going to cry about it now because I am making a sacrifice in inverted commas, but after I want to live like a king."
Ronaldo is the world's third highest paid athlete according to American business magazine Forbes with an annual income just shy of $80 million dollars.
And the 30-year-old believes he will continue to work on his brand once he retires from playing rather than a more traditional move into coaching.
"If you ask me now if I want to be a coach, I would say no. Nor a sporting director or president of a club," he added.
"Since I was 27 I have had my own line of clothes and I want my brand to keep growing because football will finish in five, six, seven or 10 years."
The Portuguese captain's success has also attracted critics of his, at times, apparently egotistical nature.
His decision to go ahead with a lavish 30th birthday hours after Madrid had lost 4-0 to Atletico Madrid in the capital derby in February dominated headlines in Spain for weeks afterwards.
Yet, despite admitting to making mistakes, Ronaldo believes it is his confidence that has molded his talents into a three-time World Player of the Year.
"Many people say they don't regret anything. That is a lie," he added.
"I at least regret things a lot, but that also explains the kind of person you are. I am like this. If all I have achieved in football is by being like this then you can't ask me to change.
"If people ask me to improve, I accept it, but to change is very difficult."