Rashad Evans: Jon Jones testing positive brings his entire legacy into question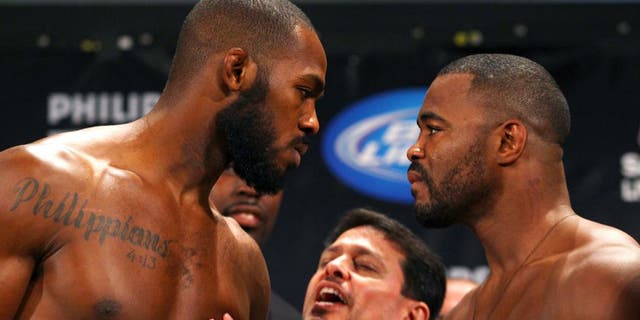 NEWYou can now listen to Fox News articles!
Jon Jones still hasn't had a chance to prove his guilt or innocence after testing positive for a banned substance ahead of his last scheduled fight at UFC 200, but questions about his past, present and future are already being raised.
Jones has never previously tested positive for any sort of banned substance, but according to former teammate and friend Rashad Evans, it only takes one suspicion to completely taint his legacy.
Evans says no matter what excuse Jones makes, questions about what he did before now and what he'll do after this drug testing fiasco will always haunt him.
"I hate to see someone who I consider probably one of the greatest fighters of all time, make these mistakes," Evans told FOX Sports.
Because now you're always going to have these thoughts in your mind like 'Jon was good, but was he always cheating? Was he cheating then? Would he cheat now?'. All these questions and it's like how great really was he? It's something that can make you think. He didn't look great against OSP (Ovince Saint-Preux), was he not on something? These are all questions you have to ask.
Evans was a longtime teammate of Jones before fighting him in 2012, so he knows the interim light heavyweight champion better than most.
The entire controversy swirling around Jones right now won't likely go away any time soon and even after he settles his current case with USADA (United States Anti-Doping Agency) and potentially serves whatever penalty they give him for the infraction, he's now going to deal with questions about his performance from this day forward.
Jones' exit from UFC 200 last week also sent shockwaves down the line because he never got the rematch with rival Daniel Cormier and if he faces a potential two-year suspension as a result of the positive drug test, the two of them may never fight again.
"Disappointed. Disappointed for him, Disappointed for DC, but just disappointed for the fans as well," Evans said. "It's a different day and age in the UFC and you've got to be more careful about the things you put inside your body and be accountable for it.
"When you don't, it affects everyone. It's just unfortunate because I love what he does inside the cage."
Jones' name will also come up at the Nevada State Athletic Commission meeting on Monday, when the governing body will likely deal with his positive drug test from USADA.
Jones was licensed as a fighter in Nevada for the bout with Cormier last Saturday and the results of his drug test will not only force him to deal with a potential sanction from USADA but he could also face separate actions from the state commission.
As of now, Jones remains on the sidelines waiting for his appeal process to play out and it could be several months before anybody knows what his fate will be.