Raiders' O-line has protected Carr most of season, but 49ers' pass rush presents stiff test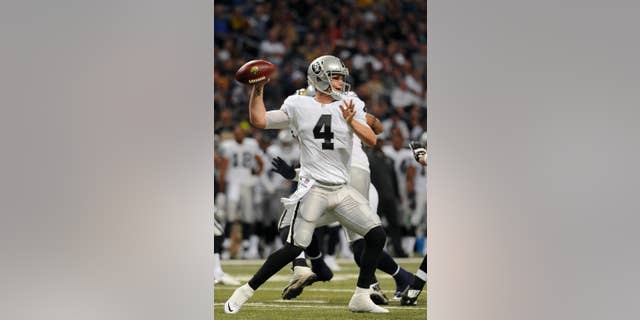 ALAMEDA, Calif. – With few exceptions this season, the Oakland Raiders have done an efficient job protecting rookie quarterback Derek Carr.
It's a statistical oddity that easily gets overlooked in Oakland's otherwise lost season.
That the offensive line has held up as well as it has is remarkable considering the Raiders have been one-dimensional on offense most of the season. Oakland has allowed only 19 sacks — six of them during last week's 52-0 loss to the St. Louis Rams.
It won't get any easier this week against San Francisco.
The 49ers have one of the most dangerous pass rushes in the NFL, anchored by defensive lineman Justin Smith and linebacker Aldon Smith.
"I've played against them before, so I know what I'm getting myself into," Raiders left tackle Donald Penn said Friday. "They're good football players. They kind of feed off of each other. It's our job to go out and limit the plays that they make."
Justin Smith is one of three San Francisco players with five sacks. Aldon Smith has two after sitting out the first nine games of the season due to an NFL suspension.
Penn, a free-agent addition in the offseason, will match up against Aldon Smith much of the game while rookie left guard Gabe Jackson will get Justin Smith.
Those are two of the most critical matchups for the Raiders, who haven't beaten the 49ers since Oct. 8, 2000.
Carr, Oakland's second-round pick who has started every game this season, has only been sacked 3.3 percent of the time he drops back to throw, according to STATS. That's the fourth-lowest mark in the NFL behind Peyton Manning, Nick Foles and Tom Brady.
That despite being the fifth-most pressured quarterback in the NFL, according to interim Oakland coach Tony Sparano.
"He's been pretty efficient versus the pressure, but pressure is going to make you get the ball out of your hands faster at times, too," Sparano said.
Oakland's ability to protect Carr is in stark contrast to how the line was constructed in the offseason.
General manager Reggie McKenzie signed Penn and veteran lineman Austin Howard in free agency, then selected Jackson with a third-round pick in the draft.
McKenzie did so with the idea of building the offense around the ground game. Instead, the Raiders have been historically bad running the ball while Carr has continually faced blitzing defenses forcing him out of the pocket and putting him on the run.
Oakland should have running back Latavius Murray back in the lineup this week after he sat out the loss to the Rams recovering from a concussion. Murray is the only Raiders running back this season to have a 100-yard game.
Still, it's the Smith-and-Smith tandem that concerns Oakland the most.
Jackson, who returned to Oakland's lineup after missing three games with a knee injury, is looking forward to it.
"It's a good challenge facing two great players," he said. "I felt a little rusty but it just felt good to get back to working."
NOTES: CB Tarell Brown (foot), LB Sio Moore (hip) and CB Neiko Thorpe (hand) are questionable. ... Murray is listed as probable. ... TE Brian Leonhardt (concussion), RT Menelik Watson (foot/ankle) and S Jonathan Dowling (back) are out.