Raiders coach Jack Del Rio weighs in on Oakland's record-setting 23 penalties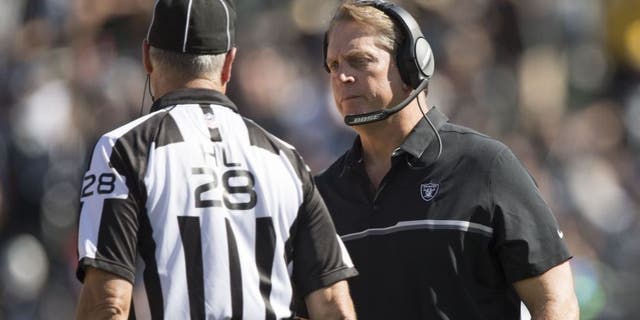 The Oakland Raiders won their eighth game of the year Sunday, remaining perfect on the road (5-0) and sitting in a tie for first atop the AFC West. They have a pivotal Sunday night date with the Denver Broncos upcoming in Week 9, but they have plenty of issues to address before then.
A total of 23 issues, to be exact.
The Raiders set a new NFL record with 23 penalties against the Buccaneers, totaling 200 yards -- and that's not even including one that was offset by a Bucs flag and another that was declined. They were an absolute mess and nearly cost themselves a win on several occasions.
So why were there so many penalties committed? Head coach Jack Del Rio has no clue.
"I don't have an answer for you on why there were so many penalties," Raiders head coach Jack Del Rio said, via CSN Bay Area. "…We played through a lot of that. I think the great thing is that we played through it and got the win."
It wasn't just silly infractions like false starts or holding calls that doomed the Raiders. It was bone-headed ones like unnecessary roughness and taking cheap shots during plays that cost Oakland points.
Del Rio has a week to clean up the Raiders' alarmingly high penalty rate because mistakes like that won't fly against the Broncos. They're not the Bucs, and they'll make you pay.
"Those kinds of mistakes cannot happen," Del Rio said. "The pre-snap things, mistakes like that, the inability to substitute properly -- that is unacceptable. When you're out there battling and you get called for a hold, it could happen. We want to compete and be aggressive so they will happen, but the other stuff has to be eliminated."
Amari Cooper was flagged for unnecessary roughness after he smacked a defender's helmet following a reception, but even he couldn't fathom how many times they were flagged.
"I can't believe how many we had," receiver Amari Cooper said. "It just shows the resilience of this team. We have to work to clean it up. We can't be a championship team playing like that."
The Raiders are an aggressive team that likes to play with great physicality and toughness, but the penalties are unacceptable, as Del Rio said.