Q&A with Chris Petersen: Inside the unique style of Washington's coach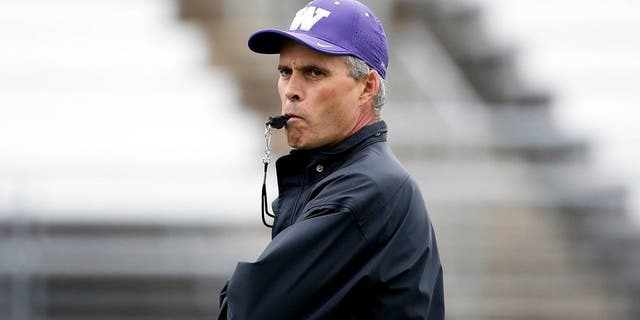 NEWYou can now listen to Fox News articles!
At the close of practice, the Washington Huskies run to midfield, take a knee and clap as instructed by coach Chris Petersen. After one particular practice in April, however, 100-plus players did not pull it off in perfect unison.
So Petersen made them run off, come back and do it again.
Its a seemingly tiny detail, but Petersens attention to said details helped turn Boise State into an unlikely national power and the long-dormant Huskies into a College Football Playoff participant last season.
I sat down with Washingtons fourth-year coach primarily intending to revisit the Huskies playoff run and look ahead to the 2017 season. But our interview quickly turned more into a conversation about his programs uniquely successful model what exactly constitutes an OKG (Our Kind of Guy); his intensive Built For Life off-field program; and why his coaches almost never yell at their players.
I dont know for certain because I havent been everywhere, said Washington offensive coordinator Jonathan Smith, but I do think were a little bit unique here.
So unique, and so successful, that in April the school signed Petersen to a new seven-year, $34.125 million contract and raised his assistants salary pool by more than $1 million annually. This interview occurred shortly thereafter.
Jennifer Buchanan-USA TODAY Sports
FOX Sports: I know coaches dont like revisiting last season, but this is the first chance Ive had to talk with you. What did the playoff run do for your program?
Petersen: I dont know. I have no idea thats how often we revisit it. Were on to the next thing. The game is over, we analyze it like any game, and then were on to the next thing.
FS: I would think the effect is felt more in recruiting?
Petersen: That stuff takes a while. Everybody always says, "Oh, you did this" youve got to sustain things for a long period of time to change things. So, it was a good step, good momentum.
But lets not kid ourselves the recruiting around here has been really, really good. Were not going to the [CFP] semifinals without really good players. They can rank us however they want to rank us, they always have, and we always do the same thing. … Its business how its always been.
FS: When a guy comes here as a freshman, what is the biggest adjustment?
Petersen: The intensity and the time commitment. Like, everybody wants to come here and play as true freshmen, so we play those guys, and then the other half redshirt. And that half is in the weight room kind of going through the motions, thinking, those [other] guys are so lucky because they get to play. Then with the guys that play, halfway through the season they think those other guys are so lucky because they get to redshirt.
Even if youre not here [in the building] its every second. If youre not doing your homework, its right there. Thats why you need the guys that love, love this game. If youre trying to get to that elite level, it just takes something thats completely different than most have experienced.
AP/Atlanta Journal-Constitution
FS: How do you figure out in recruiting if a guy loves, loves football?
Petersen: Thats the million-dollar question. Because they all like getting recruited, but thats completely different than playing football.
FS: If a guy makes it clear his goal is to come here and use it to get to the NFL, is that a good thing?
Petersen: Absolutely. If they dont want that as a goal, they shouldnt come here. We are trying to recruit and develop NFL players, without question, and our coaches are unbelievable at this. They did it at Boise, with these lightly recruited kids. Year 3, [Washington had four first- or second-round draft picks.]
But to us, thats Plan B. We play Plan B first, but Plan A is the rest of your life. Were trying to figure out what the rest of our lives are going to look like while were here getting this unbelievable degree. Thats one of the hardest things in life is to create a vision for your life and figure out what do I like outside of this. You may not figure it out in your time here, but youre going to be closer along. Youre going to have done things, youre going to be connected to people, youre going to have done some internships.
Thats Plan A. Football is Plan B, even though were playing it first. But if we dont think youre good enough to be one of the best players in this conference and have a chance to play down the road. …
Theres a big misconception about what an OKG is. An OKG first and foremost is a big-time player. If youre not a big-time player, one of the better ones we think in our geographic footprint where we recruit, the game stops there. We dont recruit you. Now, the second part is figuring out, is the guy a really good dude whos wired correctly for the football part of things.
Russ Isabella-USA TODAY Sports/Russell Isabella
FS: Does that misconception stem from he fact that at Boise, generally speaking, those were lightly recruited kids?
Petersen: Im not sure. We have a lot of good dudes here that like each other that are good to each other in the locker room, who know how to practice, that are about each other. Theres a perception that you cant win big with really good people, which is crazy to me. I think thats the only way to do it.
FS: The only difference [here] is, theyve had bigger-name schools chasing them during the recruiting process so people think it creates this sense of entitlement.
Petersen: Its really a complex situation. You cant tell me these kids whove been recruited for two to three years, that it doesnt affect their mentality by the time they get here. That doesnt mean the guy isnt a really good dude, but it has an effect on them. Its hard.
FS: As it is, going into Year 4, in terms of everything you want your program to be, how similar is it to when you were going into Year 4 at Boise?
Petersen: Yeah, I dont know. We just have our way of doing things, and our way never stays the same. If you stay the same, you get passed by. So, I would hope we dont look the same way we did in Year 4 [at Boise].
It doesnt matter what youre in what business, what sport, whatever. If you dont study the game that youre in, you are going to get passed by. That is a time-tested principle. Im not talking about watching tape, Im talking about truly studying what is going on, studying everything.
Getty Images
FS: [Star receiver] John Ross isnt here anymore, and the guys turning pro affected your secondary the most. But it seems like youve still got a bunch of guys who have played.
Petersen: We do. Im excited to see what those guys can do.
[DBs] Sidney [Jones] and Budda [Baker] and Kevin King how hard those guys worked, the focus they brought to this building every day, over the time, it changes your game. These are hard things Im talking about. Its completely against human nature to be able to do what were asking them to do. If these [young] guys can do the same thing, well be in good shape this fall.
FS: How is it against human nature?
Petersen: To have that type of intensity day after day. Youre a college student, you have academics, you have all kind of stuff going on. I think its way harder on these players than it is pro football players. Pro football players theyre pro football players. Thats what they do. These guys have a lot of other things going on.
The experience in college we want them to enjoy this whole thing, but you have to be so disciplined with your time to do this thing the right way. These guys are growing and learning and all of these things. If it wasnt so hard to do that, everybody would be great.
The process of practice and lifting, on certain days, your energy is going to be off. Can you power through that and still really improve?
AP/Copyright The Associated Press. All rights reserved.
FS: I know when I was college student, there were days I was more focused on the classes than other days.
Petersen: Its such a really cool process to stand back and watch from afar. It takes a year-and-a-half to two to really say, OK, Ive got this. I understand these things.
FS: Ive watched practices at a lot of different places. One thing that stands out here is after the play is blown dead, you dont hear your staff screaming at the guys who messed up. Why is that your style?
Petersen: They dont get hired here if thats what theyre about. Were trying to develop self-esteem out there, and that is a really hard thing to do. Because its usually never quite good enough. Its a fine line, to really bring the intensity on the field and demand a standard. You have to be a really skilled coach to understand that. But were never going to scream at our guys, thats not how we do it.
FS: Do you think the way you do things is unique?
Petersen: I think it's very unique on the field, but gets more unique off the field, with our whole Built for Life philosophy. Because its every day, in terms of talking about what is important in life, evolving into the best version of yourself, being a man, being accountable that can get old. We are in team meeting after team meeting. Its a really intense program, because I care just as much about this Built for Life philosophy as I do about winning games. And the players know that. Theyre like, we have to do this again?
Sooner or later usually later than sooner they appreciate it. You can play at the highest level of football, but this place has to be about more than football. It goes back to Plan B and Plan A.