Pujols not Angels' only improvement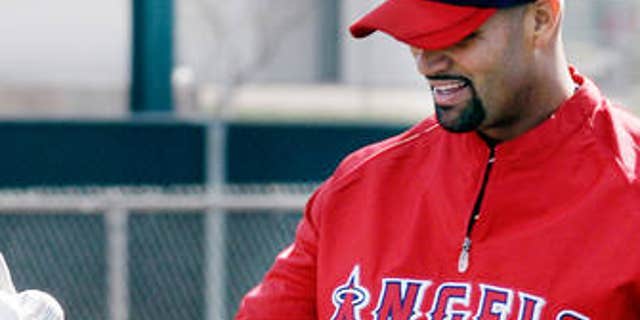 TEMPE, Ariz. – Albert Pujols stepped into the batting cage, and Angels officials began a quiet scramble. Where is Arte? He has to see this.
As spring training moments go, here was a big one: Pujols, wearing the cap and windbreaker of his new team, taking his first (unofficial) round of batting practice as an Angel. Full-squad workouts don't begin until next week, but Monday morning was, for all practical purposes, the dawn of Pujols' new baseball life. And Arte Moreno was the man who made it possible.
Moreno, who has owned the Angels since 2003, stretched the payroll to give Pujols a 10-year, $240 million contract. For that sum, he deserved the satisfaction of watching his new superstar pound one pearly baseball after another. So the call went out, and Moreno reached the faraway practice field a few minutes later.
Moreno didn't arrive on a golf cart, nor was he flanked by an entourage, because he's more than capable of supervising the grounds on his own. He wore black boots, black jeans and dark sunglasses, along with a red Angels shirt. He looked regal and fit. He walked with purpose. He was possibly the youngest 65-year-old I have ever seen.
He saw only the end of Pujols' hitting session with Kendrys Morales, the recuperating slugger who should finally return to the lineup this year. Pujols finished his round, saw Moreno and walked over to shake his hand.
It was the perfect photo op. The next logical step was for Moreno to turn and speak with the 20 or so reporters about what a great day this was for the Angels. But he declined an initial interview request, in part because he wanted to focus his attention on Mark Trumbo's workout, which began a few minutes later on the very same field.
That said a lot about Arte Moreno: He wasn't there to soak up the attention or congratulate himself for spending hundreds of millions of dollars and energizing the fan base as never before. He wanted to observe and assess his team , not merely the superstar with megawatt marketing potential.
The Angels are more than Albert Pujols. Moreno preaches that. He believes it, too. And that's precisely why this risky investment has a chance to work.
Moreno watched as Trumbo fielded a series of ground balls at third base. The Angels will be ecstatic if Trumbo can do that at game speed. Trumbo nearly won the American League Rookie of the Year award while playing first base in 2011. Needless to say, Trumbo won't play first base in the Pujols Era. So he is learning third, even though he's still limited by a stress fracture in his right foot.
After a few minutes, Trumbo set aside his glove and put on a thundering display in the batting cage. He is known for his power -- 29 home runs last year -- and hit the ball louder and farther than Pujols or Morales (at least for one day). Angels third base coach Dino Ebel couldn't have felt comfortable on the mound. One scorching line drive whistled past his head. Another nearly toppled the protective screen.
When Trumbo was through, Moreno turned to leave. He invited me to walk back to the stadium with him. Without the cameras around, he was ready to talk baseball.
Although I didn't admit it to Moreno in as many words, I've been skeptical of the Pujols signing for two primary reasons: He's 32 years old, and that's a massive amount to pay someone coming off a "down" season -- even by his otherworldly standards.
The Angels have depth at first base (Trumbo, Morales) and designated hitter (Trumbo, Morales, Bobby Abreu). They didn't necessarily need Pujols, even if he is the greatest hitter of his generation.
But the more Moreno spoke, the more the move made sense.
"He's one of the best players in baseball, and we're trying to improve our offense," Moreno said, referencing an output (667 runs) that ranked in the bottom half of the American League last year. "How many opportunities do you ever get like this? When you get an opportunity, sometimes you just take it.
"He's a perfect fit. If you have a baseball team, he's a perfect fit."
It's a philosophy that fans love: Sign the superstar and worry about the finer points later. In the wrong environment, that can be disastrous. But this -- the franchise, the owner, the manager, the supporting cast -- is the right environment.
Moreno has no debt to service on his purchase of the club, freeing up the necessary resources to invest in on-field talent. He's working with the added revenue streams of a new 20-year television contract with FOX. Financially speaking, the Angels can afford this.
Of equal importance, Pujols is familiar with the task at hand: He must drive in runs, lead the team defensively and stand up to the daily pressure of being looked upon as an icon of the sport. Manager Mike Scioscia talked about the "presence" he will give the team -- at the plate, in the field, and on the bases. Pujols lived up to that job description for more than a decade in St. Louis. He understands what the Angels are asking of him.
As with all big-dollar free agents, there's some risk of a slow start. But he's not Adam Dunn, who saw his league, role and expectations change in a single offseason. And he's not Jayson Werth, a complementary player who signed a franchise-player contract.
Pujols walked away from an offer of roughly $200 million before spring training last year. He faced critics who said he should have accepted it. But he earned another $40 million for saying no. In that way, Pujols might have a lighter burden this season than last.
"I try to clear my mind," Pujols said at a news conference Monday. "I know what I need to do. I know how many swings I need to take, how many at-bats I need, to get ready for April. That's something I don't take for granted. I don't want to blame the contract (talks) last year for my struggles in April and May. I bounced back after the break, right where I want to be."
The Angels haven't made the playoffs since 2009, but it's not as if they need Pujols to rescue the franchise. They are the only AL team with four pitchers who finished among the majors' top 30 in ERA last year: Jered Weaver, C.J. Wilson, Dan Haren and Ervin Santana. The signing of Wilson simultaneously weakened the rival Texas Rangers while adding a 200-inning stalwart who will ease the bullpen's workload.
A typical season for Pujols, in concert with the emergence of a new offensive threat, is all the Angels need for their offense to rejoin the AL elite. If Morales puts together something close to the 30-homer, 100-RBI season he had in 2009, or if Vernon Wells shows he isn't finished, or if star prospect Mike Trout arrives to stay, that ought to be sufficient.
Pujols can carry a team. We've seen him do it. But he shouldn't have to do it here.
"Look at Morales. Did you see him hit?" Moreno said, thinking back to batting practice. "That was a missing piece -- a big missing piece. It's like if you don't have Weaver.
"You (have to) look at the whole team. If (Pujols) is out there by himself, it doesn't work."
Moreno is proud of the franchise he owns. He doesn't like having missed the playoffs in consecutive seasons. But he rejects the notion that his dramatic offseason moves -- from firing general manager Tony Reagins to signing Pujols -- were impulsive reactions to the Rangers' rise, even if ex-Angel Mike Napoli was a difference-maker in the division race.
Moreno undertook detailed research before reshaping the front office, just as he absorbed all there was to see on the back fields Monday. He watched the pitchers field bunts, keeping close watch on Wilson. He stopped numerous times to sign autographs -- even stepping onto a metal barrier to position himself for a photograph, at the request of someone in a Dodgers hat. He shook hands with stadium workers and called them by name.
Once, he paused to pick up a Popsicle stick and tossed it a garbage can. When I asked if he does that often, Moreno replied, "Yeah, of course. I mean, have you ever walked into your house and there's a paper laying there? Do you just leave it on the floor? What would be the difference? Our fans come here. You want it clean."
As we arrived back at the Angels' clubhouse, I tried (for probably the second or third time) to elicit details from Moreno about what it was like to see Pujols in his Angels gear for the first time. With a player -- and, let's face it, a contract -- of that magnitude, he had to feel something profound. A big moment for the franchise, was it not?
Moreno smiled.
"You're not going to get a quote from me on that," he said. "Remember? It's about the Angels."