Proof the 2016 Warriors would have beaten the 'Showtime' Lakers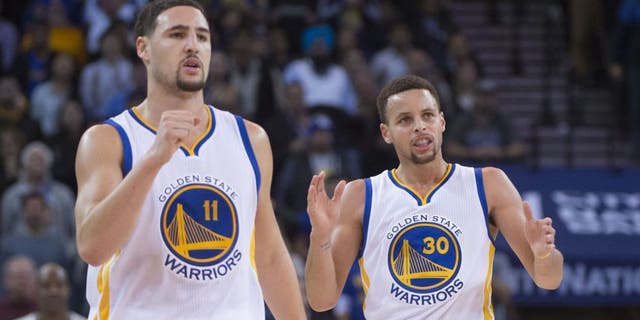 NEWYou can now listen to Fox News articles!
It's the Greatest Debate of the 2016 NBA season: How would the Warriors do against fill-in-the-blank historical team? We've heard arguments about the 1996 Chicago Bulls and Shaq's 2001 Lakers.
The one that is now resonating is Mychal Thompson's claim that the Warriors, led by Steph Curry and his son Klay, would beat his "Showtime Lakers" of the 1980's. It's such a heated debate that even Mychal's former teammate Magic Johnson jumped into the conversation only to disagree with him.
We decided to ask the folks at What If Sports to crunch the numbers for us to see if we could get something close to an actual answer.
After 1,001 neutral-court simulations between the 2016 Warriors and the 1987 Lakers (the best Lakers team that Mychal Thompson actually played on), here's what the verdict: The 2016 Warriors are better.
According to What If Sports, the Warriors won an average of 56.7 percent of the matchups between the two clubs and won them by an average score of 111.4-108.4. Yes, that's correct, the team that has nearly perfected the art of the 3-point shot won 1,001 simulated games by an average of exactly three points per game.
That's the biggest difference between the two teams: 3-pointers made.
The Lakers actually shot a better field goal percentage (48.5 to 45.9), averaged more rebounds (52.5 to 47.4) and had more assists (28.5 to 27.8) per game, but the one place they couldn't overcome the Warriors was beyond the arc. Golden State averaged 12.2 3-pointers made per game compared to the Lakers' 2.0.
In terms of individual stats in the simulation, Steph Curry led the way with 29 points per game for the Warriors, while Magic Johnson nearly averaged a triple-double with 21.3 points per game, 8.1 rebounds and 12.3 assists.
Oh, and if you're wondering, Klay Thompson had the scoring edge over dad Mychal (20 to 11.4).
To run your own simulation on What If Sports, click here.