Preview: Suns at Grizzlies, 5:30 p.m., FOX Sports Arizona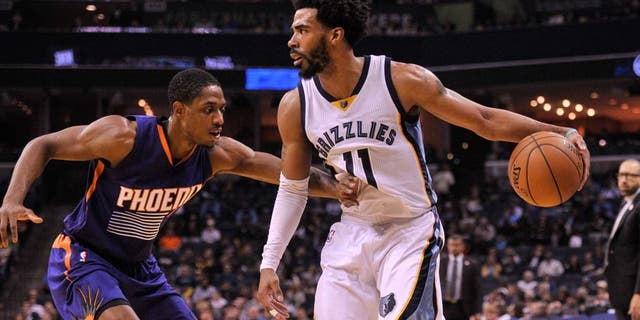 The Suns are finding ways to hang with their opponents, but they've yet to master the art of getting over the top.
They'll continue the learning process Tuesday night against the team they have struggled mightily against -- the Memphis Grizzlies.
Memphis is 11-2 in its last 13 meetings with Phoenix since Feb. 5, 2013, and eight of those wins are by single digits or in overtime. The Grizzlies have won both meetings with the Suns this season, but neither was close.
On Jan. 30 in Phoenix, Mike Conley scored a career-high 38 points and hit seven of the Grizzlies' 16 3-pointers during a 115-96 rout. On Feb. 8, the teams reconvened in Memphis and the Grizzlies held the Suns to 33 percent shooting in a 110-91 rout. Conley scored 23 points in the latter game, which featured three ejections and six technical fouls for one incident in the fourth quarter.
The Suns are 3-12 since back-to-back road wins over New York and Toronto on Jan. 21-22, and six of the losses have been by single digits. They are 0-2 since reconvening from the All-Star break -- a 128-121 overtime loss on Friday at Chicago, and a 100-96 loss on Sunday at Milwuakee.
The Suns gave up 20 points during the overtime session in Chicago. They trailed by one with 30 seconds left in Milwaukee before giving up a decisive 3-pointer with eigth seconds left.
"We're getting the feel for what it takes to close out games like this," Suns point guard Eric Bledsoe said.
Added forward T.J. Warren: "At the end, we did a good job of trying to fight back. We just couldn't finish it out, but it is on to the next one."
Missed free throws played a role in both losses. In Chicago, Devin Booker missed the third of three free throws with the score tied with 1.5 seconds left in regulation, and in Milwaukee, Marquese Chriss missed two free throws with 30 seconds when Phoenix trailed by one.
"The fight is always there," Phoenix coach Earl Watson said. "We just have to learn how to win."
A different kind of fight was apparent when the Suns and Grizzlies last met three weeks ago. With Memphis up 18 in the waning minutes, Phoenix's Alan Williams exchanged words with Troy Daniels. Phoenix guard Tyler Ulis stepped in and was shoved by Daniels. Officials spent 10 minutes reviewing things and tossed Ulis and Chriss while calling four technicals on Phoenix, including one on Booker.
"It's just basketball, man," Booker said of the heated exchange. "You talk trash sometimes. I don't know why he'd be talking to me. He's been on five teams in three years and he has the nerve to talk trash to me?"
Memphis is 8-4 in its last 12 games and 1 1/2 games behind the fifth-place Los Angeles Clippers in the Western Conference. It is coming off a 105-98 win at Denver on Sunday that snapped a two-game losing streak.
Conley scored 13 of his 31 points in the fourth quarter.
"We needed it tonight," Conley said. "It was a game where we were trying to find a rhythm since we lost two in a row. I tried to do what I could to be aggressive early, got into a good rhythm and carried that into the third and fourth quarter."
Also in a good rhythm for Memphis were Marc Gasol and Zach Randolph. Gasol added 23 points and Randolph contributed 20 while helping the Grizzlies to a 49-39 rebounding edge.