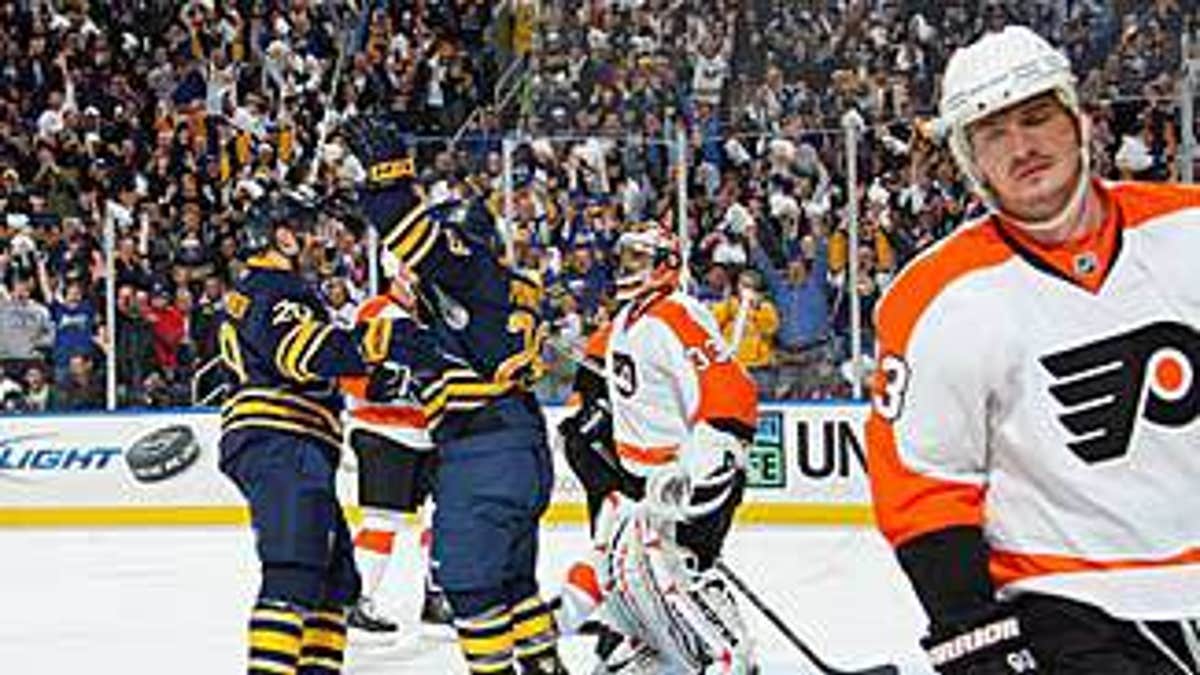 BUFFALO, N.Y. -- Ryan Miller was the star of Buffalo's 1-0 series-tying victory against Philadelphia on Wednesday night, but Jason Pominville more than earned his co-star status.
Pominville, a 22-goal scorer during the regular season, converted a pass from Rob Niedermayer midway through the first period for the game's only goal, helping the Sabres send the series back to Philadelphia all even at 2-2.
Afterwards, Pominville spoke with the media about the goal and other highlights of the victory.
Q: Describe what happened on your goal?
A: [Tyler Ennis] made a good pass to [Rob Niedermayer]. I just kind of drove the net and he snuck it by their defenseman and I just had to put it away. So, get pucks deep, good things will happen and that was one of them."
Q: You guys get the goal and then you're on the ice basically killing the last minute. How significant was that for your line (with Ennis and Niedermayer) getting that call?
A: It's nice to be out there, definitely, those are the situations you want to be in. I think as a team at the end we did a pretty good job of trying to keep it to the outside and not give those quality … chances and tried to force them to make those dump-ins and work off of that and I thought we responded pretty well. Obviously Ryan (Miller), when he's called upon to, made some great saves.
Q: What happened on the five-minute power play (after the penalty to Mike Richards at the end of the second period)?
A: Yeah, definitely disappointing. I was disappointed too a little bit of how the fans reacted. I mean, we still have a lead. I think that's the time we need their support a little bit. I mean, that was a little
Q: What's the byproduct of the pushing and shoving and the extra engagement tonight?
A: They had a couple guys that got in there and our guys got in and stuck up for each other. I'm not saying we're a tough team or anything like that. I think at times they've been trying to push us around and I mean we're not going to back down because they are no tougher than we are.
Q: What do you make of the scrum at the end of the game.
A: It's fun to see everybody stick up for each other and get involved and that's what a team is all about and that's a good example of it.