Playoff success of Broncos' McManus no surprise to his college coach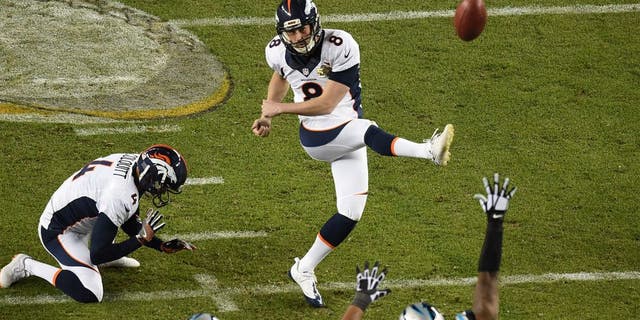 There was a point late in Super Bowl 50 when the idea of a kicker being named Most Valuable Player started to surface on Twitter.
Denver Broncos linebacker Von Miller doused that notion in the fourth quarter when he forced his second fumble to all but cement MVP honors and assure that teammmate and second-year kicker Brandon McManus would not be heading to Disney World.
"The magnitude of the moment was nerve-wracking," observed Temple University head football coach Matt Rhule, who recruited McManus out of high school. "It was very surreal. This is probably the kid I've known the longest. ... We were saying, if he keeps doing what he's doing, he could be the MVP."
McManus, 24, provided the only points put up by Denver's offense through the first three quarters of Sunday's 24-10 victory oer the Carolina Panthers, nailing all three of his field goal chances -- from 34, 30 and 33 yards -- and his only extra point attempt.
It capped a sensational playoff run for McManus, who set a postseason record by converting the most field goals without a miss (10-for-10) in league history. Not bad for a kicker who had been waived by the Broncos three-quarters through his rookie season in 2014.
"It was very cool to see the journey. It hasn't always been easy for him," Rhule said via phone on Wednesday. "Not just for Brandon, but it's his mom and dad. It's nice to see them have that experience, a once-in-a-lifetime opportunity. To be such a part of that is very gratifying."
McManus' brief NFL career has had its bumpy moments. An undrafted free agent who was waived by the Indianapolis Colts in 2013, he was traded from the New York Giants to Denver on the eve of the 2014 season. Just as McManus appeared to have a solid foothold on the starting job, he missed three kicks in a five-game span and was replaced by Connor Barth.
Still, Rhule maintained an unwavering confidence in McManus, mindful of how his former kicker coped with any struggles at the collegiate level.
"You always knew if he missed a kick he'd immediately bounce back," Rhule said. "At the end of the day, that's what (the NFL) is all about. It's who handles adversity and who bounces back the best."
Rhule just completed his third season as head coach at Temple, guiding the Owls to a 10-4 mark that included an American Athletic Conferece East Division title and the school's first victory over Penn State.
An assistant at Temple for six seasons, Rhule forged a strong bond with the McManus family, even attending CYO basketball games with them. Rhule spoke with pride over how McManus sent an autographed football to his 11-year-old son, who kept the souvenir front and center while watching the Super Bowl.
"I recruited him the whole way through. Obviously, he had a great leg, but he's very athletic, mentally strong and resilient," said Rhule, mentioning how McManus typically won team awards for his offseason work regiment. "I think a lot of that is why he's been so successful. He always wants to be the best at everything."