Pirates' Kang doesn't think Coghlan meant to injure him on season-ending slide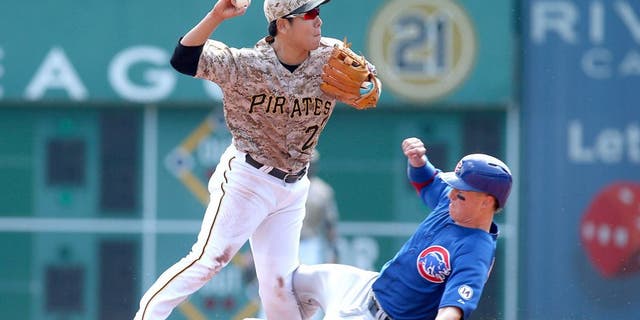 NEWYou can now listen to Fox News articles!
As he continues to work his way back to full strength, Pittsburgh Pirates infielder Jung Ho Kang discussed the brutal slide that cut short his rookie season.
Kang has returned to baseball activities, posting a video of himself fielding groundballs last week, and told reporters that "everything's better," via the Pittsburgh Post-Gazette, as he prepares for spring training to get underway next week.
As he reflected on the slide from Chicago Cubs outfielder Chris Coghlan in September that broke his left leg and tore his lateral meniscus, requiring reconstructive surgery, Kang appeared to be at peace with his opponent's actions.
"I don't think it was intentional at all," Kang said. "The player, Coghlan, was just breaking up a double play."
While Kang appears to have forgiven the player who ended his season with a hard slide, New York Mets infielder Ruben Tejada is still fuming about a controversial slide from Chase Utley that broke his leg in the NLDS a month after Kang's injury.
While he doesn't fault Coghlan for what happened, Kang is among a large legion of players who believe MLB should introduce a new rule to protect middle infielders.
"I agree," Kang said of MLB and the MLB Players' Association's progress towards a rule change. "I support it. It's for the players; it's to protect the players."