Photo: FSU fan makes 'Google Us' T-shirt to support Cook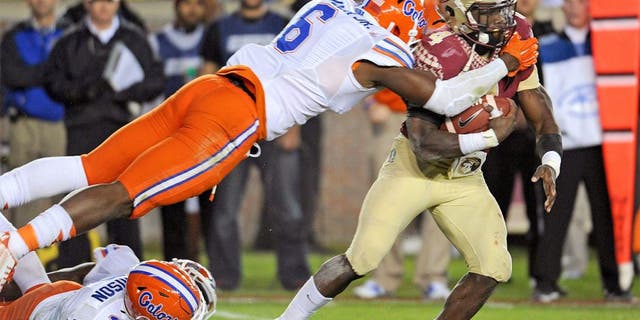 It didn't take long for Dalvin Cook's case to turn into a mockery. In fact, took exactly one day.
On Monday, the Florida State running back was found not guilty of misdemeanor battery after being accused of striking a women outside of a Tallahassee bar. Cook, who had been suspended indefinitely since July, was immediately reinstated, which made a happy day for the sophomore 1,000-yard rusher and FSU fans.
One Seminoles fan took her support to the next level. On Tuesday, Tegan Weaver created a T-shirt that makes light of the situation.
The shirt features Cook's No. 4 on the back, while on the front it reads "GOOGLE US," which is a reference to the accuser's claim that Cook told her would be able to "buy her" in two years when he turned pro and to "Google him."
Weaver tweeted a picture of the shirt and underneath wrote "Not even sorry."
(h/t College Spun)