Peter Quillin, A Champion Boxer With A Colorful Past And A Cuban Heart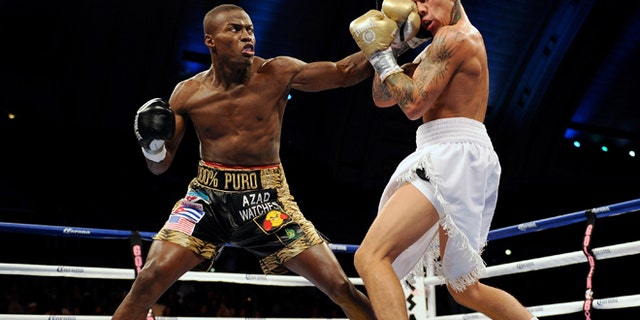 NEWYou can now listen to Fox News articles!
There aren't a lot of boxers with championship titles who spent time in homeless shelters as teens. There aren't a lot who admit to having sold crack, either, or who worked at a vivero in Manhattan's Lower East Side, killing chickens and delivering them to Chinatown restaurants.
Peter Quillin has, and more. But what all of his experiences haven't made him is bitter.
"I would not change anything about my past," the 30-year-old WBO middleweight champion told Fox News Latino. "It has made me stronger, hungrier and more powerful."
America will next get an opportunity to witness just how powerful on Showtime on Friday, when Quillin (30-0) defends his title against the 35-year-old Czech fighter Lukas Konecny (50-4) at the D.C. Armory.
Quillin was born in Grand Rapids, Michigan, and raised principally by his mother. That's because his father, Pedro, was in and out of prison. First in Cuba, where he was a butcher and was imprisoned for selling meat illegally on the side, according to the boxer.
Some years later, after having been allowed onto one of the last Mariel boats to leave Cuba, he served more than 6 years in a U.S. federal penitentiary for money laundering.
The way Quillin describes it, he and his two younger brothers ran wild on the streets while their mother worked three jobs. "By the time I was a teenager, I was uncontrollable," he told Fighthype.com in 2012.
"It's funny how things used to be," he said. "I was selling crack in Grand Rapids, 16 years old, when boxing made its way into my life."
Quillin was obviously talented at the sport, but undisciplined. He wasn't much of a gym rat, and it wasn't until he turned 18 that he started to take it seriously as a way out of the poverty he grew up in.
He gathered a couple of hundred dollars and took the bus to New York City along with his trainer. Unfortunately, neither of them had much beyond their dreams, and Quillin wound up living in a series of temporary accommodations – flophouses, homeless shelters, friends' floors – and working three jobs, including at the vivero.
"The smell, it was stomach-turning," the soft-spoken and articulate champ said. "I grew up hating chicken."
But he came to love animals and has since owned dogs, cats, pythons, tarantulas, monitor lizards and scorpions.
"I had to give many of them away to schools and friends," he told FNL. "I was in and out of town so much, it was hard to arrange care."
The most difficult to let go of was an African gray parrot named Frankie. "I had always wanted one, and he was great," Quillin said. "But he got me sick with allergies, so I got rid of him two years ago."
Now he limits the menagerie to two dogs.
When Quillin turned pro in 2005, after just 15 amateur bouts, he quickly became known as a puncher — a righty who could drop an opponent with a single punch, with either hand.
"I started getting into a little bit of trouble when I thought like a puncher," he said. "The fighters who last are those who have that boxing ability, the 'Sweet Science' part of boxing."
After seven years, Quillin got his shot: An Oct. 2012 fight against Hassan N'Dam N'Jikam for the WBO middleweight crown, which Quillin won in a unanimous 12-round decision.
He's successfully defended his title twice, most recently a 10th round technical knockout of Gabriel Rosado that very nearly cost him his marriage.
He trained for the fight in Los Angeles, where his trainer Freddie Roach works, having left behind his wife, Allison, who was pregnant. Shortly before the bout, Allison had a miscarriage.
"She asked me to come home from training," Quillin recalled, "but I couldn't do that. I didn't understand what it meant to her and how it felt inside her."
It took a lot of effort, but he and Allison struggled through it. "She's six months pregnant now," he said.
Asked if it is a boy or a girl, Quillin laughed and answered, "We're doing it the old-fashioned way, so we don't know. I want a little girl."
He said, "The way I grew up made me think about, 'What are the most important things for me?' God, education and boxing."
How is he doing on each count? "A lot of my boxing goals have been completed," he said, adding the caveat that he hopes to take on the winner of the June bout between Argentinian WBC middleweight champ Sergio Gabriel Martínez and Miguel Cotto.
"I went to church today [Palm Sunday]," he added. "Sometimes people forget about God."
And education? "Last November I took my GED exam," he said, barely able to contain his happiness. "I just got the results two weeks ago: I passed."
As for his father, Quillin says he has never felt closer to him. "He's living in my apartment in New York, playing dominoes every day," he said.
Quillin traveled to Cuba in 2010 and got a chance to meet his father's family there. "I didn't want to live like a tourist when I went," he told FNL. "I slept on the floor like they did. I'm proud of everything I have here, but I want to make their lives better."
Asked about how his father had felt about Quillin's trip, the champ said, "Thirty-four years my dad hasn't been there, and I think it hurts him every day. I have a bunch of lawyers working on trying to get him down there. He is old now and would like to be buried there with his family."