Pete Carroll says Russell Wilson is partly to blame for taking so many sacks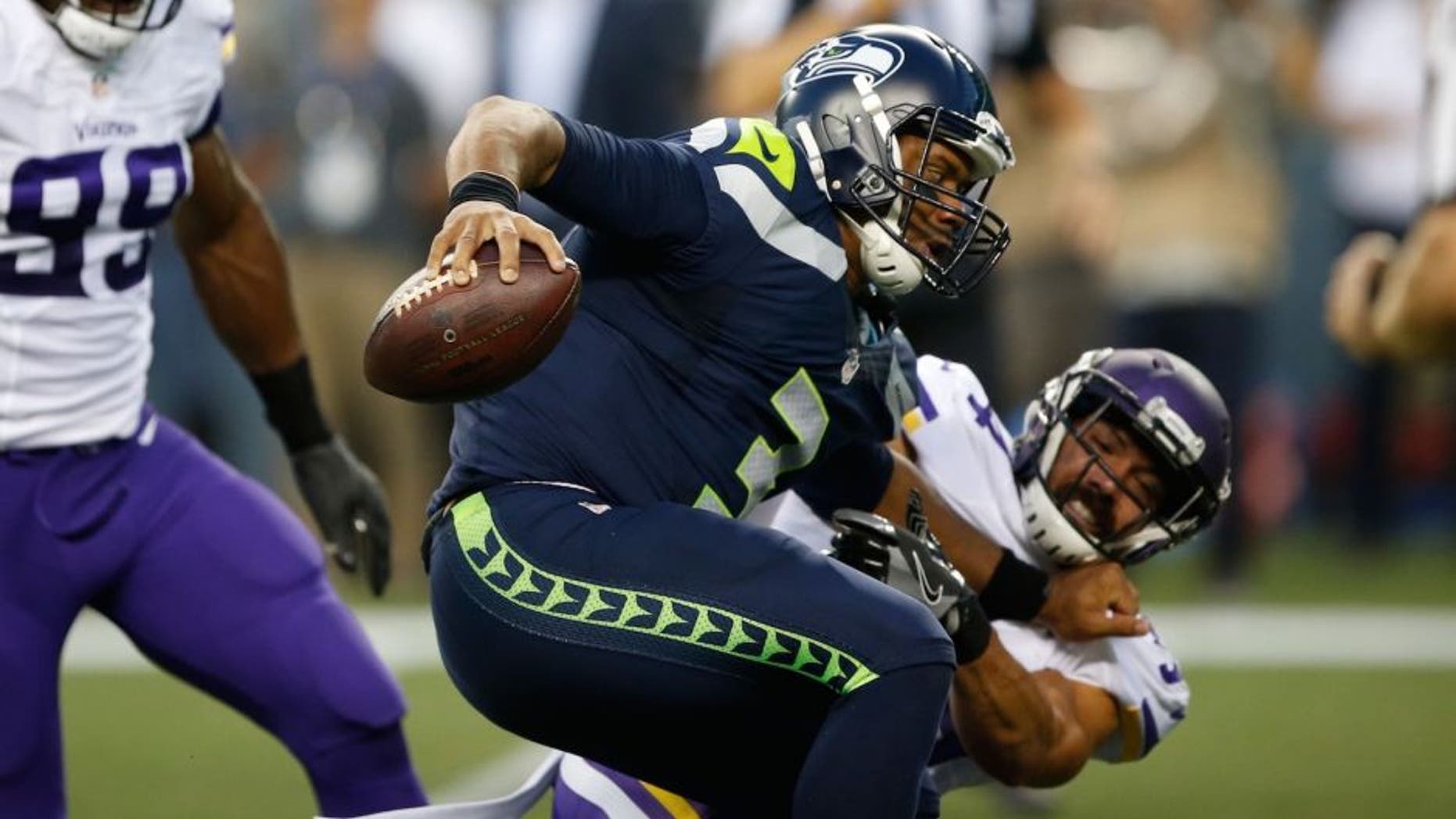 Russell Wilson played more Thursday night in the Seattle Seahawks' 18-11 preseason loss to the Vikings than he did last week -- but not necessarily better.
He completed just 5 of 11 passes for 77 yards with no touchdowns or interceptions. The most glaring number on his stat line was four -- the number of times he was sacked.
It's certainly fair to say the Seahawks have a porous offensive line, but the huge sack numbers weren't necessarily on the big men up front. Wilson was to blame, too.
"I know that you are looking at the sack numbers and thinking 'oh geez, what's that mean?"' head coach Pete Carroll said via the Seattle Times. "We really, we need to get the ball out. We need to throw the ball away and get rid of it so we don't take the big plays (losses). … Russ can do a better job to help us there when we get stuck.
Carroll believes the crux of the issue stems from the offense's desire to make big plays downfield, which aren't always there. Wilson is one of the best playmakers at his position when it comes to extending plays, but it sounds like getting the ball out of his hands quicker will help the offensive line.
"Sometimes we try really hard to get out to try to make a bigger play when the pressure eventually gets there," Carroll continued. "But on rhythm, we were fine a few times. We need to get the ball out and stay quick with it like we want to and not let the rush get to us."
Wilson acknowledged the fact that he needs to make quicker decisions and not hold onto the ball as long as he has, despite his ability to make plays with his legs.
"There are so many different ways to make a play," Wilson said. "We've made a lot of great plays off scrambles before so you don't want to shut the ball and throw it away and just waste a play, in my opinion. You want to have that competitive edge. But you want to have that smart competitive edge."
The Seahawks still have two more preseason games to get things together, but they haven't looked sharp thus far -- particularly the first-team offense. Wilson is just 8-for-17 in two games with no touchdown passes and one interception. He'll get back to his old ways of making spectacular throws, but he and the offense still need some work.