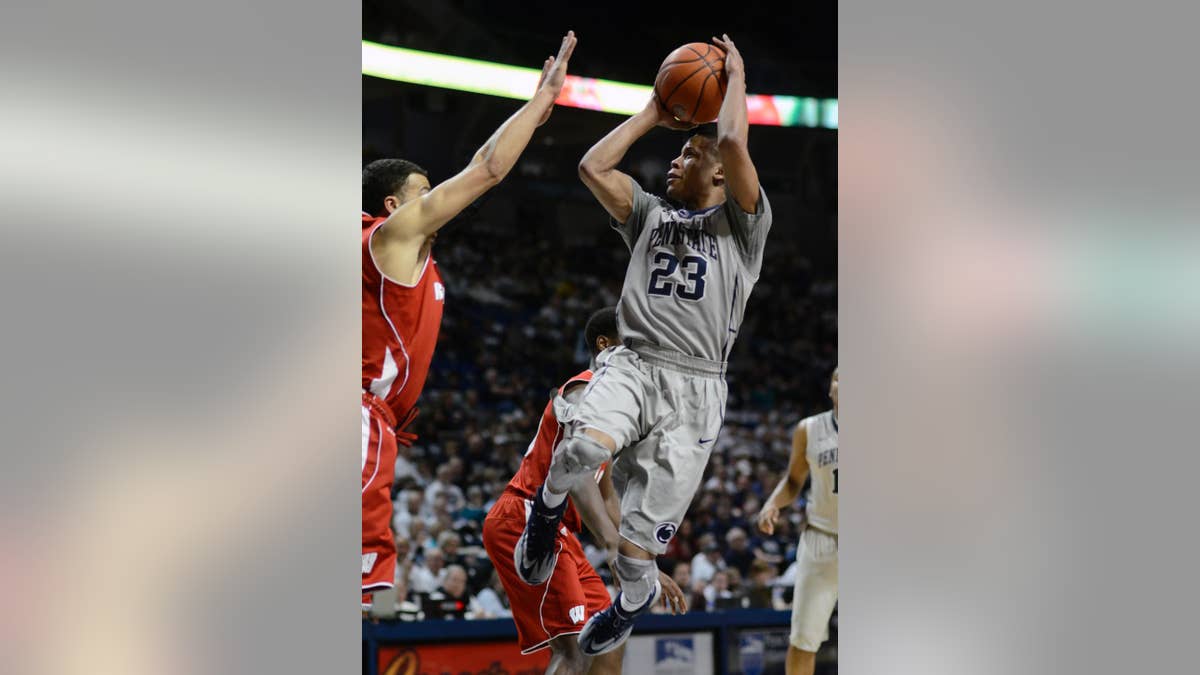 STATE COLLEGE, Pa. – Penn State coach Patrick Chambers is used to watching the Nittany Lions play good teams close.
What's been frustrating for Chambers is the end result.
No. 14 Wisconsin held on for a 71-66 victory over Penn State on Sunday, marking the 11th time this season the Nittany Lions have played a game decided by five points or fewer, and the seventh time they have come up short.
Josh Gasser scored 15 points to lead a balanced Wisconsin offense and the Badgers (24-5, 11-5 Big Ten) held onto third place in the conference standings.
Ben Brust scored 14 points and Traevon Jackson, who made four clutch free throws down the stretch, added 13 for the Badgers. Wisconsin made 13 of its last 14 free throws over the final 7:45.
D.J. Newbill had 23 points for Penn State (14-15, 5-11), which dropped to 2-5 against ranked teams this season.
The redshirt junior became Penn State's 31st career 1,000-point scorer. He leads the Big Ten this season with 178 field goals.
Tim Frazier and Ross Travis scored 10 points each for Penn State. Frazier is the team's second-leading scorer at 16 points per game but he drew his third foul with just under 3 minutes to play in the first half, forcing some lineup alterations.
"When Tim went out, that group played really hard," Chambers said. "They were flying all over the floor. We got them of rhythm because, when they are in rhythm, they are really good; they'll make that extra pass.
"That group did a good job. We just need to do it a little bit longer, a little more often."
Chambers has weathered the close losses with optimism throughout the season and that didn't stop on Sunday.
"We're headed in the right direction," he said. "That's the No. 14 team in the country.
"We're one stop away, we're one made shot away, we're one less turnover away from sitting here beating two Top 25 teams in a week. I felt good going into the game; it's a shame."
The Nittany Lions closed within 66-64 with 18 seconds left but were forced to foul. Jackson went 4 for 4 from the line during the closing seconds and Gasser was 2 for 2.
Newbill committed two turnovers after Penn State had drawn within three points and Wisconsin was able to hold on.
Penn State shot 48.3 percent to Wisconsin's 44 and owned a 34-28 rebounding advantage as well.
"We're going to give up some points in the paint to a team like Penn State," Wisconsin coach Bo Ryan said.
"The thing you can't let them do. some of the shooters, they get on runs. We did a real good job from the 3-point line and hitting our free throws. That was the difference."
What aided Wisconsin was the points they got off 11 Penn State turnovers.
"They scored 17 points off our turnovers," Chambers said. "We take great pride in trying to have less than 10.
"To score 17, they pretty much scored every time we turned the ball over. Obviously, we have to take care of the ball a little bit better.
"Live turnovers will kill you. If you have a dead ball, at least you can set up your defense. With odd man rushes, like hockey, they'll go in the paint and act like they'll be getting a layup and they'll kick it out and get a three. They're daggers," Chambers said.
Wisconsin held Penn State to 1-for-13 shooting from beyond the arc while going 8-for-24 itself.
"We definitely have to make 3s, but you also have to take what Wisconsin gives you," Chambers said.
"I think that's why we compete with Wisconsin every time we play them. We're OK getting 50 points in the paint. We just need a second scorer; Newbill can't do it all by himself.
"We need a second and third scorer; we just didn't get production."