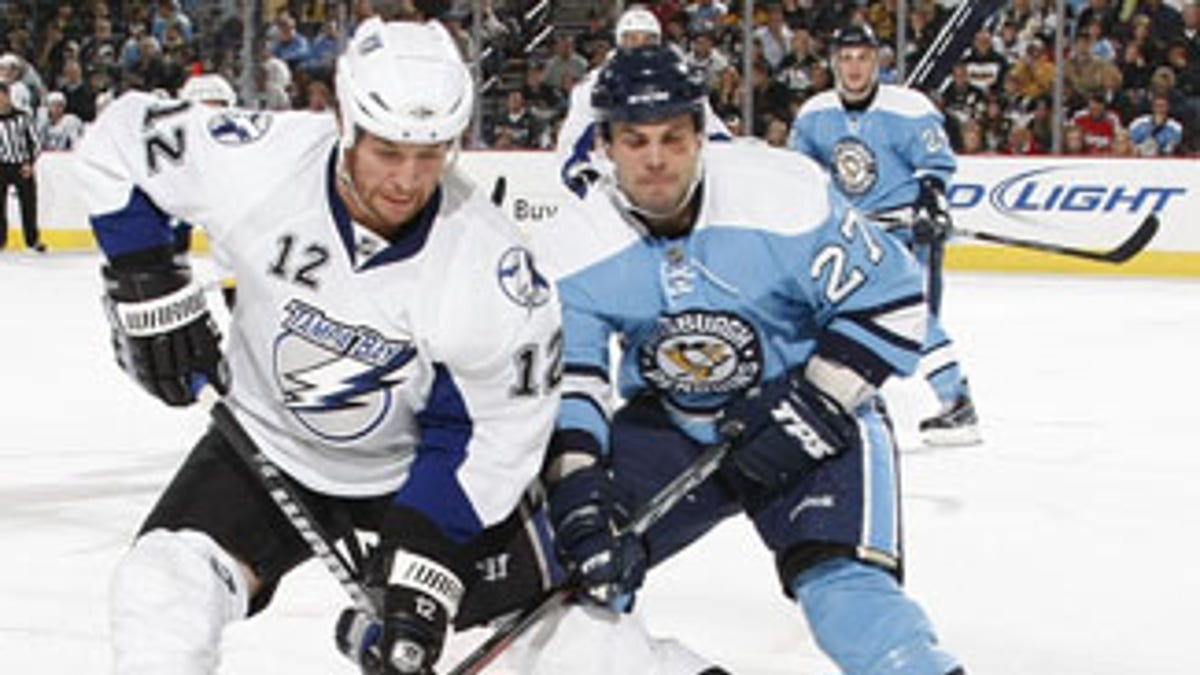 With 11 days left in the regular season, the playoff races in each conference still are on fire. So many games have playoff implications, with points at such a premium, as teams jockey for positioning. NHL.com is here to give you a Down the Stretch daily that will highlight what you need to know about the games that directly can impact the playoff races.
Here is the installment for Thursday, March 31:
PITTSBURGH (45-24-8, 98 points) at TAMPA BAY (41-24-11, 93 points)
Where they stand: Pittsburgh is fourth in the Eastern Conference; Tampa Bay is fifth in the East
What's at stake: Pittsburgh hasn't given up on winning the Atlantic Division and finishing first in the Eastern Conference, though it is four points behind Philadelphia following Tuesday's loss. Likewise, Tampa Bay isn't ready to give up its fight for the Southeast Division title and a top-three seed, but it's six points behind Washington. It's possible -- bordering on likely -- that the Penguins and Lightning will meet in the first round.
How it's going: The Penguins got good news on the Sidney Crosby front Wednesday as their captain was cleared to return to practice with the team in morning skates. Crosby, who has been out since suffering a concussion Jan. 5, is with the club on this road trip and will be on the ice with his teammates Thursday morning at St. Pete Times Forum. In other news, the Penguins had their four-game winning streak snapped in a 5-2 loss at home to the Flyers on Tuesday. Alex Kovalev and Tyler Kennedy scored, but Ville Leino had 2 goals in the third period and the Penguins were stifled by rookie goalie Sergei Bobrovsky, who made 25 saves.
The Lightning beat Ottawa on Tuesday 4-2 for their second straight victory. They've struggled for most of the month and watched the Capitals sail right past them in the division standings, but the Lightning built on last Saturday's win against Carolina with another strong performance Tuesday against a team that had beaten them twice this month. Steven Stamkos broke his five-game point drought with a goal and an assist.
Upcoming: The Penguins finish their Florida trip against the Panthers on Saturday, then return home to play the Devils on Tuesday. The Lightning will play four of their last five games on the road, starting Saturday in Minnesota. They're in Chicago on Sunday and Buffalo next Tuesday.
LOS ANGELES (44-26-6, 94 points) at VANCOUVER (51-17-9, 111 points)
Where they stand: Los Angeles is fifth in the Western Conference; Vancouver is first in the West
What's at stake: Los Angeles is looking to shore up its playoff berth while Vancouver can clinch the Presidents' Trophy with a win and a Philadelphia regulation loss to Atlanta. The Canucks already have locked up the top seed in the Western Conference. The Kings can move into fourth place with a win and possibly within a point of third.
How it's going: The Canucks just keep on rolling. They clinched their first Western Conference regular-season title Tuesday with a 3-1 win in Nashville, thanks to a pair of third-period goals from Alexandre Burrows. They finished their four-game road trip with a 4-0-0 record. Any combination of three points earned by the Canucks or lost by the Flyers will give the Canucks their first Presidents' Trophy.
The Kings are dealing with significant injuries to leading scorers Justin Williams and Anze Kopitar, but their first game without both forwards still produced their fourth straight win, a 2-0 defeat of Edmonton. Granted, the victory did come against the last-place Oilers, who are winless in 10 straight, but the Kings got 2 goals from Dustin Brown, who has to pick up his scoring pace in the absence of Williams and Kopitar. Jonathan Bernier made 32 saves for the shutout.
Upcoming: The Kings return home to host Dallas on Saturday and then head north to play in San Jose on Monday. The Canucks play their next two games against Edmonton, at home Saturday and at Rexall Place on Tuesday.
DALLAS (38-26-11, 87 points) at SAN JOSE (44-23-9, 97 points)
Where they stand: Dallas is ninth in the West; San Jose is third in the West
What's at stake: Dallas is three points out of a playoff spot with seven games to play. The eighth-place Blackhawks are idle Thursday, so this is a good chance for the Stars to make up some ground. San Jose is trying to hold off the Coyotes, Kings and Ducks to win the Pacific Division. The Sharks have a two-point lead with six games left.
How it's going: The Stars played well Tuesday in Phoenix but still couldn't come away with the two points, falling 2-1 in a shootout. The one point pulled them within three of the Blackhawks, who lost in Boston, but the Stars couldn't shake their slumping ways. They are winless in their last four games (0-1-3) and just 2-3-4 in their last nine.
The Sharks have been off since beating Phoenix 4-1 this past Saturday. They have points in six straight games (5-0-1), and are riding the hot play of goalie Antti Niemi and the scoring of rookie Logan Couture, who is making his case for the Calder Trophy. Couture scored his 29th and 30th goals of the season Saturday. Eight of his goals have been game-winners.
Upcoming: The Stars' tough five-game road trip continues Saturday in Los Angeles and concludes Sunday in Anaheim. The Sharks continue their three-game homestand Saturday against Anaheim and Monday against Los Angeles.
TORONTO (35-32-10, 80 points) at BOSTON (43-23-10, 96 points)
Where they stand: Toronto is 10th in the East; Boston is third in the East
What's at stake: There's obviously way more on the line for Toronto than there is for Boston, which already has clinched a playoff berth and can clinch the Northeast Division with a win. The Maple Leafs are seven points out of a playoff spot with five games to go.
How it's going: The Maple Leafs kept their playoff hopes alive Tuesday with a 4-3 win against Buffalo at Air Canada Centre, but the Sabres didn't do them any favors Wednesday. Buffalo's 1-0 win against the Rangers brought the difference between the Leafs and a playoff spot to seven points, exactly where it was before the puck dropped Tuesday. They have only five games remaining and only can get to 90 points, which is just three more than the Sabres and Rangers have right now.
Bruins goalie Tim Thomas cemented his case for the Vezina Trophy on Tuesday with a 32-save shutout of the Chicago Blackhawks at TD Garden. He's won four straight starts, stopping 113 of 115 shots along the way. He leads the NHL with a 1.96 goals-against average and .940 save percentage. However, it's possible coach Claude Julien turns to Tuukka Rask for Thursday's game.
Upcoming: The Bruins host Atlanta on Saturday to complete a three-game homestand. They go to Madison Square Garden to take on the Rangers on Monday. The Maple Leafs play in Ottawa on Saturday and then have a back-to-back Tuesday at home against Washington and Wednesday in New Jersey.
NEW YORK RANGERS (41-31-5, 87 points) at NEW YORK ISLANDERS (29-36-12, 70 points)
Where they stand: The Rangers are eighth in the East; the Islanders are 14th in the East
What's at stake: The Rangers can jump back over the Sabres and into seventh place with a win. They would finish the night tied with Montreal with 89 points, though the Canadiens start the day with five more non-shootout wins. The Rangers would extend their cushion on the ninth-place Hurricanes to five points.
How it's going: The Rangers have scored only three goals in their last four games, but they've gained five out of a possible eight points (2-1-1) because Henrik Lundqvist has given up only two non-shootout goals. The problem is the offense has gone missing again, and at the worst time. The Rangers could have solidified their playoff position with a win or a one-point loss in Buffalo on Wednesday, but were beaten by one Tim Connolly slap shot. Rangers center Artem Anisimov did beat Sabres goalie Jhonas Enroth, but the goal wasn't allowed due to Ryan Callahan's incidental contact with Enroth.
The Islanders are coming off a 3-2 loss in New Jersey on Wednesday.
Upcoming: The Rangers play their final road game of the season in Philadelphia on Sunday (12:30 p.m. ET, NBC, TSN). They return home to face Boston on Monday, the Thrashers come to the Garden on Thursday and they finish with the Devils next Saturday. The Islanders host the Hurricanes on Saturday and travel to play in Boston next Wednesday. They finish the season at home against Pittsburgh on April 8 and at Philadelphia the next day.
ATLANTA (32-32-12, 76 points) at PHILADELPHIA (46-20-10, 102 points)
Where they stand: Atlanta is 11th in the East; Philadelphia is first in the East
What's at stake: Philadelphia holds a three-point lead on Washington for first in the Eastern Conference and also has a game in hand. The Flyers also can put Vancouver's Presidents' Trophy celebration on hold for at least one night because the Canucks only would clinch the NHL's regular-season title with a win and a Flyers regulation loss.
How it's going: The Flyers broke out of a scoring slump Tuesday by scoring five times in Pittsburgh. Rookie goalie Sergei Bobrovsky has played well in three straight starts since getting the hook 1:22 into the second period of a subpar performance last week against Washington. He made 25 saves in the 5-2 win against the Penguins.
The Thrashers lost Montreal on Tuesday and are on the verge of being mathematically eliminated from the playoffs.
Upcoming: The Flyers travel up the New Jersey Turnpike to face the Devils on Friday, and then host the Rangers on Sunday (12:30 p.m. ET, NBC, TSN). The Thrashers play in Boston on Saturday.
COLUMBUS (34-31-11, 79 points) at WASHINGTON (44-22-11, 99 points)
Where they stand: Columbus is 13th in the West; Washington is second in the East
What's at stake: Washington holds a six-point lead on Tampa Bay in the Southeast Division with five games remaining. The Lightning have six games left, including Thursday's home match against the Penguins. The Capitals also are three points behind the Flyers for first in the Eastern Conference and three points up on the third-place Bruins.
How it's going: The Capitals welcomed Alex Ovechkin and Jason Arnott back to the lineup Tuesday but came away with just a point in a shootout loss to Carolina. Ovechkin, who missed three games with undisclosed injuries, didn't record a point and was stopped in the shootout. Arnott also failed to record a point. Semyon Varlamov got the start in net and made 24 saves. The Capitals still have won 12 of their last 15 games (12-2-1). Capitals defenseman Dennis Wideman suffered a lower-body injury against the Hurricanes and his status is week-to-week. He did not practice Thursday.
The Blue Jackets beat Florida 3-2 in a shootout on Tuesday.
Upcoming: The Capitals complete their three-game homestand Saturday against Buffalo (7 p.m. ET, NHLN-US). Columbus hosts Chicago on Friday and St. Louis on Sunday.
NASHVILLE (41-26-10, 92 points) at COLORADO (28-39-8, 64 points)
Where they stand: Nashville is seventh in the West; Colorado is 14th in the West
What's at stake: Nashville can move back into sixth with a win and extend their cushion between the playoffs and a long offseason to as many as seven points. The Predators are on strong footing for a playoff berth, but a regulation loss and a Dallas win would give them only a three-point cushion.
How it's going: The Predators had their six-game win streak snapped in a 3-1 loss at home Tuesday to Vancouver. They held a 1-0 lead entering the third period, but Alexandre Burrows scored twice, including the winner with just 2:29 left, and Aaron Rome added an empty-net goal to give the Canucks their 11th win in 12 games. Predators coach Barry Trotz said he thought his team was in good shape to at least get a point, but Vancouver not only killed off two penalties in the third but outshot Nashville in the period 14-2.
The Avalanche blew an early lead Monday and lost in Anaheim, 5-4. Ducks forward Teemu Selanne had a 5-point night against Colorado.
Upcoming: The Predators come home to play three in a row, starting Saturday against Detroit. The Avs travel to Phoenix on Friday to start a stretch of six games in 10 days to close the regular season.
Follow Dan Rosen on Twitter at: @drosennhl