Peach Bowl: Houston handcuffs Cook, Florida St. to start hype for 2016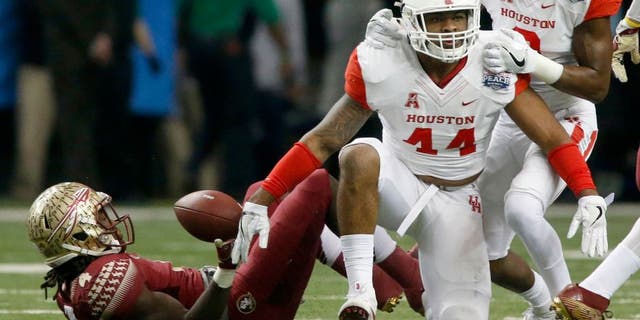 NEWYou can now listen to Fox News articles!
ATLANTA -- While Florida State's Dalvin Cook picked himself up off the Georgia Dome turf, the year-long Heisman Trophy contender stopped for another loss, Elandon Roberts danced.
It was a shimmy, a back-and-forth bob from the linebacker that was everything No. 18 Houston was, and the ninth-ranked Seminoles weren't, in a 38-24 win in Thursday's Chick-fil-A Peach Bowl.
Sluggish. Out of sync.
Whether it was a letdown for a team that the past two winters was in the BCS Championship Game and a College Football Playoff semifinal, Florida State struggled to find its footing.
While that included -- on the topic of feet -- starting quarterback Sean Maguire, who was playing with a heavily taped left one, it was more about the work the Cougars defense did against Cook.
"We just didn't block them," said Seminoles coach Jimbo Fisher. "There was nothing that we had never seen. They just beat us on blocks. They beat us on blocks and when we did break through the one guy -- the safety, or the guy that was coming down, the one-on-ones -- they were able to tackle well, and they got him in confined spaces."
Among players from Power 5 teams, only Heisman runner-up, Stanford's Christian McCaffrey (1,043) and the winner, Alabama's Derrick Henry (983), had more first-half rushing yards than the sophomore Cook's 959.
But he was held to a just 11 on 10 carries through the first two quarters, and finished with 33 on 18 tries, due to aggressive Cougars front led by Roberts' eight tackles and six via safety Lee Hightower.
"Houston did a good job of keeping me in the box," Cook said. "They also did a good job tackling me."
The single-season Florida State record holder with 1,691 yards (sixth in FBS), despite missing all of the win over Syracuse with an ankle injury and leaving the victory at Wake Forest after two carries, the highlights have been due to that breakaway speed.
Cook's biggest weapon, that provided a Power 5-best 12 rushes of 20 or more yards, but it was largely missing against Houston.
While he managed to find the end zone in the third quarter, which came on a 1-yard run, and 13 of his rushes were for three yard or less. His longest was a nine-yards and just one attempt resulted in a Florida State first down.
The most consistent piece of Florida State's offense all season, the Cougars' focus on Cook only magnified given the Seminoles' QB play, which included a gutsy 392 yards and two TDs from starter Sean Maguire.
Playing on a heavily taped foot after taking a low hit while scrambling out of bounds, it went from bad to worse for Florida State when J.J. Cosentino (who a week ago was third string before the announcement that one-time starter Everett Golson wouldn't travel to Atlanta) came on and went 1-for-4 for five yards until Maguire returned.
To his credit, the junior posted the highest yardage output of his career and cut the deficit to seven points (24-17 and 31-24) with TD passes of 65 and 14 yard to Travis Rudolph and Jesus Wilson, respectively. But Maguire also threw four interceptions after the injury and his mobility was severely limited.
It wasn't as though the QB's ability to move around in the pocket was the start of Cook's issues against the Cougars defense. He was held to just four yards on five carries before Maguire ever went to the locker room.
This was about a Cougars defense that has been largely overshadowed by Tom Herman's offense doing what it has done so well all season long.
Allowing 116 yards per game, which ranks 12th in FBS, only nine teams had a better average against winning teams than the 118.6 allowed by the Todd Orlando-helmed unit.
Houston held Navy's record-setting QB Keenan Reynolds to 84 yards and it limited Vanderbilt's Ralph Webb (1,152 yards) to 99. Only Memphis' Doroland Dorceus (116) and UConn's Arkeel Newsome (114) went over the 100-yard mark against Houston.
Cook, of course, was on a different level than any other runner they'd seen this season, coming in fresh off finishing seventh in the Heisman voting.
But the Cougars held him to just 1.8 yards per carry, the second-lowest figure of his 25-game career, and trailing only the 1.7 he had a year ago vs. Notre Dame.
In all, the Seminoles had 16 yards on the ground, their sixth-lowest total since 2000 and the worst since totaling 13 on 27 carries in a '14 win over Clemson.
There was another subplot at play as Herman walked off the field, victorious, both in mirroring his old boss and setting the stage for what could come next.
Ohio State's offensive coordinator a year ago, he became the latest in the Urban Meyer coaching tree to pull off the upset of a national power in a top-tier bowl game. Herman followed Meyer himself with Utah in the 2004 Fiesta Bowl and Kyle Whittingham, another Meyer staffer, with the Utes in the '09 Sugar Bowl.
But unlike those Utah teams, neither of which opened the following year in the Top 25, the now 13-1 Cougars figure to be a force in Year 2 under Herman.
"From a program standpoint, I think it puts us on the national radar," said wide receiver Demarcus Ayers. "I know these guys are going to come back and compete next year and be on that national stage, make people believe in us ... things are moving in the right direction."
Ayers, a junior, could still leave for the NFL, and given his comments, that might be the way he's leaning. But the Cougars still bring back quarterback Greg Ward Jr., the team's leading passer and rusher and seven other starters on an offense that entered the bowl season 10th in points per game (40.6).
That attack will again be the backbone, Herman's hurry-up, defense-winding machine, and it's the Cougars' own D that will need to step up to match it.
Roberts is a senior, along with cornerback William Jackson III -- the Peach Bowl Defensive MVP -- but Houston will still bring back six starters, including LB Steven Taylor (91 tackles with 18 1/2 for loss).
We won't have to wait long to see whether the Cougars can absorb those losses, with a season-opening game in Houston against what figures to be a loaded Oklahoma team that could come in as defending national champions.
Win there, and Herman and Co. could begin to make a case for a return trip to the Peach Bowl, which a year from now will be the site of a CFP semifinal.
But that's getting ahead of things.
"Into the offseason I think we'll certainly have to combat that awful, dreaded word 'complacency,'" Herman said. "Thinking that, because we're all humans, we're all flawed creatures, and ... the easy thing to do is to pat yourself on your back and rest on your laurels. We're certainly going to enjoy this win and this season for a couple weeks and classes start in January and we're going to work on everything and more that got us to this point."
For now, before they become a chic dark horse pick for next season, the Cougars have our collective attention, and for more than just Ward and the offense.
Follow Cory McCartney on Twitter @coryjmccartney and Facebook