Pastrana patient in NASCAR approach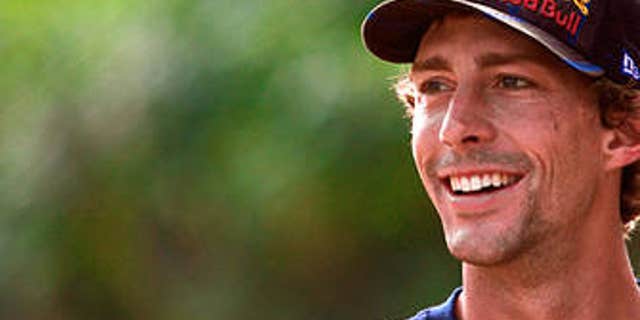 Travis Pastrana is working hard to make a smooth transition to NASCAR, testing with his newly formed Pastrana-Waltrip Racing team in an effort to figure out the stock cars.
Pastrana, a multi-sport athlete and X Game star, tested at New Smyrna Speedway in Florida in a K&N Pro East Series car this week. He plans to run seven Nationwide Series races in 2011 with the team and then 20 in 2012.His new team was created through a partnership between Michael Waltrip Racing, Gary and Blake Bechtel and Pastrana.
The 27-year-old said that he learned a lot through the opening test.
"The first two days went absolutely great," Pastrana said. "I had a lot of time in different cars and racing different things, but I just didn't know where the baseline was going to be, so I've been very happy. The team has been awesome. We had a great setup for a starting point and it was just really a lot of fun getting out there and getting a feel for the car. I picked it up pretty quick. We took some time and I'm working with a few different people.
"(Camping World Truck Series driver) Matt (Crafton) was out here and really helped and tried to coach me. He was teaching me how to roll the middle maybe a little bit more to keep speed in the corners and not do what we do in motocross or even in rally - where we charge the corners maybe a little too hard - and pivot the car around. I definitely had fun and didn't crash either day, so I guess that's a start."
He got some tips from veteran drivers at the track and is trying to be realistic about his plans. Pastrana recognizes the toll the transition can take and is trying to keep his goals in perspective.
He says that he felt like his times were good in his initial test and that he was building a solid baseline. However, he recognizes the key differences in testing and racing.
He's cautious when it comes to potentially setting goals for himself.
"I have never been in a race with 42 other cars," he said. "So it's going to be a huge learning experience. Rally (racing) is just you on the track. Honestly, I felt like I had the most trouble trying to do the qualifying laps. More than likely I will struggle a bit on being at the front at the beginning of a race. With any luck we will be able to work as a team and get better.
"I have great people around me and we'll try to continually get the laps that I need. We'll just work on whatever that first base is and work up from there. The team is basically doing everything possible to make it as easy as possible. It's going to take time and I realize that. I have high hopes. Every racer out there thinks they can win. It's just a matter of getting the time in. ... We will just have to see how the first race goes and go from there."
Pastrana won't just be competing in NASCAR this year, either.
"I have Nitro Circus live tour that will take up some time in February and then again in March," he said. "Definitely, working on doing a few things for X Games this year and then the focus goes 100 percent over to NASCAR. I feel I am going to need a few rounds, a few races, and a few test sessions to really figure out where I am."
He wants time to soak in the experience, to make the most of his opportunities.
And he's willing to take time to learn.
"After every test session I need to just go home and really think about it and try to analyze what happened instead of just jumping in and pounding myself into the ground," he said. "After every race you give yourself a little time to talk it over with the team and figure out what we need to do to improve ourselves next race.
"My main goal is not to look like an idiot this year. Hopefully, next year we can come in with a good game plan with some experience under our belt and really start doing well. Obviously, I am very optimistic. Hopefully, we will get there eventually. ... It's not going to be quick, but I think we have a pretty good plan."