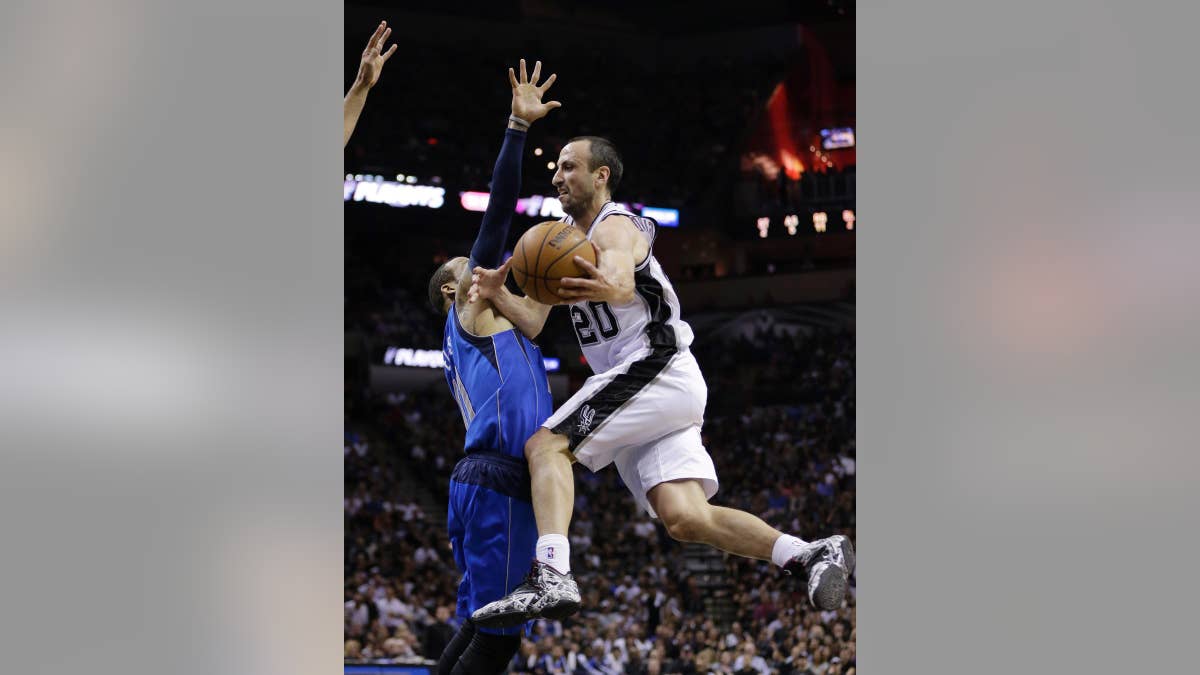 SAN ANTONIO – Tony Parker scored 32 points and the San Antonio Spurs led by as many as 31 on their way to 119-96 victory over the Dallas Mavericks, closing out a tense first-round series Sunday in seven games.
Manu Ginobili scored 20 points, Danny Green added 16 points and Tim Duncan and Kawhi Leonard had 15 points apiece for San Antonio. The Spurs advance to face the fifth-seeded Portland Trail Blazers, who upset the Houston Rockets in a six-game series.
Dirk Nowitzki had 22 points and nine rebounds to lead Dallas.
Last season ended for the Spurs with a Game 7 loss in the NBA Finals against the Miami Heat. Facing a much earlier end, San Antonio rode a raucous home crowd and overwhelmed Dallas in the deciding game of a physical series.
There were two technical fouls and two flagrant fouls in Game 7 and two more flagrants reversed upon review.
Parker was assessed a technical with 31.6 second left in the first quarter after making a layup on and jawing with former teammate DeJuan Blair as the two ran down the court. They have been talking smack to each other all series and Parker was clearly frustrated with the hard fouls committed by Blair on his drives earlier in the series.
Blair was later assessed a flagrant foul for elbowing Ginobili in the face on a drive. After the foul, Blair stared down San Antonio coach Gregg Popovich, who was screaming at officials over the severity of the foul.
The flagrant foul energized the Spurs, who went on a 14-2 run to take a 51-27 lead with 8 minutes remaining in the first half.
Duncan dove into the Mavericks bench during that run to save a loose ball and start a fast break.
Later, Vince Carter tackled Ginobili in the lane three minutes into the second quarter. The play was initially ruled a flagrant foul but was reversed when reviews showed Carter was trying to hold Ginobili up as both tumbled out of bounds.
San Antonio never led by less than 14 points in the second half.
NOTES: The Spurs were 7-0 in games decided by three points or less during the regular season but were 0-2 against Dallas in such games in their first-round series. . Sunday's game between Dallas and San Antonio was the 50th postseason game this season. It was also the fifth Game 7 of the first round. "I think it's great for basketball and for the fans," Popovich said. "It drives all the coaches crazy. (But) for the game and everybody, it's been a wonderful thing. " . Blair was booed heavily each time he entered the game or committed a foul.