Panthers LB Thomas Davis could see his Pro Bowl drought end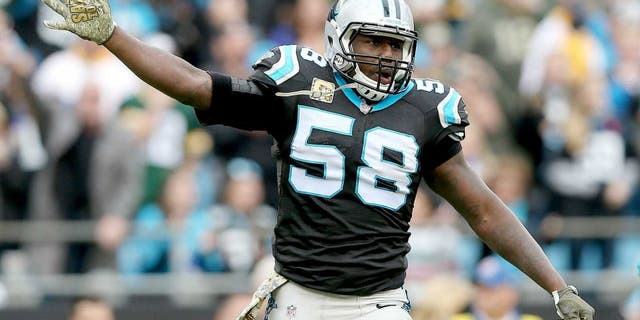 CHARLOTTE, N.C. (AP) -- Carolina linebacker Thomas Davis is considered one of the NFL's best at his position, and he's played a pivotal role in the Panthers' 8-0 start this season.
Yet one thing has eluded Davis over his 10-year career: an invitation to the Pro Bowl, which surprises his Carolina teammates and coaches.
That could change this season.
The 32-year-old Davis is posting numbers that are on pace for a career-best year during the Panthers undefeated run through the NFC. Carolina plays at Tennessee (2-6) on Sunday.
"I ain't going to lie, I'm excited about it," said Davis, who overcame three torn ACLs to return to the league full-time in 2012. He has had three consecutive 100-tackle seasons with Carolina.
"But that's not why we play the game," Davis said of the individual recognition of the Pro Bowl. "We play to get the wins, and that's what we've been able to do. That's what we're trying to keep working towards."
While Davis' 65 total tackles are tied for 14th in the league and his 49 solo tackles are ninth, his three interceptions are already a career best, and tops among the league's linebackers.
"He deserves to be there," said Panthers linebacker Luke Kuechly, himself a Pro Bowl pick in 2013. "He's having a great year so far. With all he's done over the past few years, he's very deserving of it.
"I hope this is the year for him. He needs to get out to Hawaii and have a chance to enjoy that."
Davis also has 3.0 sacks, just one away from equaling his career high of 4.0 set in 2013 -- the season he finished with career bests of 123 total tackles and two interceptions.
"I understand the position, and why people vote for it," Davis said. "They look at the sack numbers, they don't look at the overall position and what we do. As an outside linebacker in a 4-3 defense, we work as hard as anybody on the field.
"We are required to cover guys, to make tackles and are put in positions where we have to rush the quarterback. Our sack totals just don't end up being the same as a 3-4 (defense) guy because they rush a lot more than we do."
However, this season Davis is getting the attention that he hasn't received in past years. He's leading the early Pro Bowl fan voting among outside linebackers by nearly 2,000 votes over New England's Jamie Collins.
"It's about time," Carolina head coach Ron Rivera said. "He deserves it, he really does. Based on the way he's played the last three seasons, and coming back from all the knee surgeries, it's about time, it really is.
"I know it's a postseason type thing, and I promise you he'd much rather us go far into the playoffs . but selfishly, personally for him, I'd would love to see a guy like him get it."
Davis is one of 12 finalists for Sports Illustrated' Sportsman of the Year award that was announced Wednesday.
Davis joins three-time U.S. champion gymnast Simone Biles, world champion sprinter Usain Bolt, reigning NBA MVP Stephen Curry, three-time tennis Grand Slam winner Novak Djokovic, Women's World Cup MVP Carli Lloyd, soccer star Lionel Messi, Triple Crown winner American Pharoah, mixed martial arts champion Ronda Rousey, World Series champs Kansas City Royals, world No. 1 golfer Jordan Speith, and three-time tennis Grand Slam winner Serena Williams.
"You look at some of the names that's in there -- it's truly an honor to be mentioned with those people," Davis said. "I've never dreamed about either one of them (Pro Bowl and Sportsman of the Year), but I'll definitely take both of them if it happens."
Still, if Davis has his way, he'd rather be playing the following week -- in the Super Bowl.
"It's one thing to be voted into the Pro Bowl," Davis said. "But if we make it to the Super Bowl, then that takes precedence. But as a player, you definitely want to be voted in."