Panthers fall to division rival Falcons, ending dream of undefeated season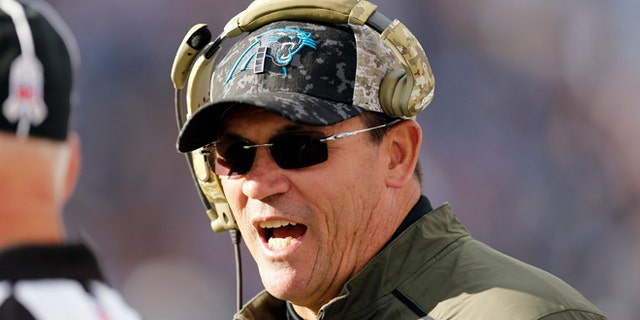 ATLANTA (AP) – The Carolina Panthers can still clinch home-field advantage in the NFC playoffs with a victory next week, so quarterback Cam Newton likes where they stand.
Newton, though, was hardly pleased Sunday that his team couldn't rally from a fourth-quarter deficit for the fifth time this season, losing 20-13 to the Atlanta Falcons.
It marked the first defeat in 19 regular-season games for Carolina (14-1). The Panthers host Tampa Bay next Sunday.
"Some plays that we left out there — we knew it — yet we know what we're capable of," Newton said.
For the Atlanta Falcons and quarterback Matt Ryan, the best hope is to beat New Orleans and finish with a winning record. Minnesota's win Sunday night over the New York Giants eliminated Atlanta from playoff contention.
But after snapping a six-game slide last week at Jacksonville, at least the Falcons (8-7) have something to play for at home against New Orleans.
"Even more so, to come out and play like we're capable of when we haven't done that at different times of the year — that felt really good," Ryan said.
ELITE FOR A REASON
In a matchup of Pro Bowl players, Julius Jones got the best of linebacker Luke Kuechly on a 70-yard touchdown catch that gave the Falcons a 14-10 lead.
Quarterback Matt Ryan scrambled to his left and took a shot from cornerback Charles Tillman as he threw a deep ball down the left sideline from the Atlanta 30.
Jones timed his jump perfectly, snatching the ball from behind Kuechly at the 17 and running untouched to the end zone. Free safety Kurt Coleman fell down near both players and had no chance to stop Jones.
Jones had nine catches for 178 yards and has 127 receptions this year to rank third on the NFL single-season list. Indianapolis' Marvin Harrison set the record with 142 catches in 2002.
"I know the team depends on me," Jones said. "So when my number is called I just try to go out there and deliver."
HARD TO SAY
Carolina coach Ron Rivera wasn't sure if officials made the right call on Tillman's unnecessary roughness penalty against Roddy White on the Falcons' opening drive.
Atlanta took the free third-down conversion to finish a 16-play drive that tied the score at 7-all.
"It was huge," Rivera said. "We'll have to talk to the league officials about what transpired and we'll go from there, but there's nothing we can do about it. We didn't get off the field. We're not making any excuses."
SIGNATURE PLAY
Falcons rookie defensive end Vic Beasley, the No. 8 overall draft pick, had the first breakout moment of his career, sacking Newton for a 10-yard loss in the closing minute and causing a fumble that sealed the victory.
"I've been able to give pressure to quarterbacks throughout the year," Beasley said, "but we've been continuing to work together and we were in a great place this week to get it done."
GOING ABOUT HIS BUSINESS
Panthers cornerback Josh Norman stayed clear of fallout from the last two games after exchanging heated words with White on Dec. 13 and getting fined over $26,000 in his confrontational role with Giants receiver Odell Beckham Jr. last week.
His biggest play was a fumble recovery that led to a fourth-quarter field goal and cut the lead to 14-13, but Norman wasn't interested in grandstanding.
"I think the guys came out and fought hard and in even in our failure we still give thanks," Norman said. "This is not going to define us."
RIVALS STILL GRINDING
Dropping to 4-1 in the NFC South, the Panthers lost to Atlanta for just the second time in seven games. The Falcons are 1-4 in the division. They have lost 14 of 19 to New Orleans. Carolina has won five straight and seven of nine against Tampa Bay.